write a review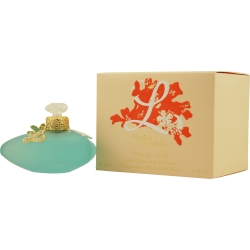 A spicy, moderate scent that will attract the right kind of attention no matter the situation, L De Lolita Lempicka Coral Flower has a resonant essence that works for all sorts of casual occasions. First introduced by Lolita Lempicka in 2008, this fragrance has a rich, complex construction that combines notes of bergamot, vanilla and amber with vanilla orchid, grapefruit and frangipani. Adding a touch of this delightful, mature scent to your pulse points is sure to make heads turn wherever you go.
Write a review and share your opinion about this product with others.
Just fill out the form below and click the "submit review" button.
Thank you for your effort. We appreciate it.
We'd Like to Thank You
to receive special offers & coupons! (optional)
I really wanted to love this fragrance because I LOVE the bottle. At first it smelled great but after half hour or so, the fragrance began to turn on me. it became intense and not very feminine at all. After an hour, I had a terrible headache. I'd love to be able re-gift it because I've only sprayed one whiff out and saved the box, but I love the bottle so much, I may just have to keep it. Glad I bought the smaller one.
Written by BonnieH on February 11, 2014
Read Review details ►
It smells wonderful on me. I really like it. Yes it is a little different but nice great fragrance. It is refreshing and not over powering. I keep sniffing all thru the day. It has some floral hinting in it.
Written by peach on February 06, 2014
Read Review details ►
L De Lolita Lempicka Coral Flower is a strange little scent. It's fresh, light, and doesn't announce itself before you walk into the room. At times I pick up little reminders of a scent I wore in high school Love's "Rain" scent. I can pick up the amber and frangipani, and it has a lovely "green" quality about it. I don't get any citrus. The vanilla is subtle, and initially can come across as a bit plastic. Overall, this has been my go-to scent for hot summer days because it really does have a very beachy quality to it. I tend to prefer more "green" florals, and this one does not disappoint.
Written by Amy on September 02, 2013
Read Review details ►
This perfume is great. As others have mentioned, the fragrance does remind you of the beach or fresh sea air, which to me, is just delightful!The scent is light, not overpowering. I do wish it had a little more lasting power. I too bought the fragrance after receiving a sample and I am glad I did. Buy Lolita Lempicka L coral and you can have the Beach come to you!
Written by Melanie on March 27, 2013
Read Review details ►
I was hesitant to buy this one because of reviews, but I am happy I did. It is very different than the other lolitas; I have them all. I would compare this one to a Coco Mademoiselle or Alien Sunescence. It has citrusy notes, but it is very soft and clean at the same time. Great buy for the price here.
Written by Amanda on February 17, 2013
Read Review details ►
I discovered this perfume by accident a few years ago from a bulk order of perfume samples I won on ebay. I fell in love immediately. Warm and inviting. It creates an intimate and inviting aura. It is my favorite for a romantic dinner. Or for a night when I just feel whimsical and beautiful, with curls down.
Written by Dawnana on January 27, 2013
Read Review details ►
Lolita Lempicka L coral I think of the colour orange when i smell this because it smells like oranges and vanilla and cinnamon. It smells like a hotelsoap and very masculine. I think it would be perfect for a man. The type of women i imaging wearing this would be a woman 40+age with long curly red hair who is picknicking on a autumn day dressed in bohemian clothes and wearing a big brown hat. On a woman it has a chique stuffy vibe like its a perfume for the upper class. On a man it can be daring hot and bold.
Written by vlinder on October 10, 2012
Read Review details ►
I've got to say that if you like a fragrance like no other, try this one. I purchased it right after I recieved a sample and I'm so glad that I did. This has something in it that you don't find in other fragrances, something very unusual and sexy. The drydown is heavenly and if you want to smell like a real woman, buy this!
Written by Annette on May 07, 2011
Read Review details ►
I love this perfume. It's affordable, smells a bit peppery and has that scent that reminds you of spring/summer and early fall. It has a wonderful scent and isn't overpowering like some scents. It does die down, so no one gets a major headache. It's my favorite and I love it =D *get the lotion, for small touch ups and lasts longer*
Written by silvermist_85 on March 31, 2011
Read Review details ►
I am classifying this scent as an outdoor because it reminds me of the beach or fresh sea air. It is awesome! I love the salty freshness! It would be great to wear to the beach or swimming. It's light and not overpowering. The driftwood note is amazing. Buy it, you will not sorry. I love, love, love it!!
Written by Gayla/Dallas on August 03, 2010
Read Review details ►