write a review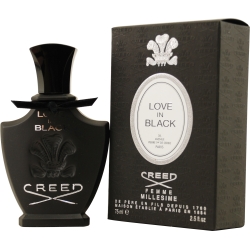 For women who want to make an impression that lasts, Creed Love in Black is a fragrance that sets exactly the right tone. This moderate, spicy scent provides a rich, intriguing character that works wonders for all sorts of casual occasions. Introduced by Creed in 2008, this evocative fragrance expertly combines notes of cassis, musk, violet and white violet with iris and clove. Subtle enough for a variety of casual occasions, Creed Love in Black will draw attention no matter where you go.
Write a review and share your opinion about this product with others.
Just fill out the form below and click the "submit review" button.
Thank you for your effort. We appreciate it.
We'd Like to Thank You
to receive special offers & coupons! (optional)
Creed Love in Black is really growing on me. It smells good, but I do not love it as I do other Creed fragrances, so I'm glad that I got the small bottle instead of the larger bottle. Initially I thought it smelled like an old lady's perfume as the violet was overwhelming and then waned off and smelled like powder. But I do like it. I'd buy it again. Love in Black is appropriate for romantic/elegant/evening wear during autumn and winter. It's almost...sort of...mysterious.
Written by Malkina on January 10, 2014
Read Review details ►
Creed Love in Black is one of my favorite scents. I feel special when I wear it, and my boyfriend feels special when I wear it too! It's origin is what makes this fragrance so beautiful and timeless. Jacqueline Kennedy must have been in complete awe that someone would make a scent like this especially for her. I was certainly in awe the first time I smelled it.
Written by Dee on August 29, 2013
Read Review details ►
I bought it for my sister. She said it was awesome. She says she would recommend it to anyone.
Written by Billie Kay on January 18, 2013
Read Review details ►
Creed Love in Black...I read a local newspaper review of this perfume and decided to try it. I am so glad I did. WOW!! I love the delicate but sensuous smell that wafts around me all day. I am never going to be without a bottle of It from now on.
Written by Sue A on January 13, 2013
Read Review details ►
Very nice... Starts out with a pow and then settles into a lasting floral. Like all Creed products, you will stand apart and get MANY compliments!
Written by Nancy on December 11, 2012
Read Review details ►
Creed Love in Black... what an amazing aroma!. I like to try different scents and because this particular one rec'd so many good reviews - I tried it! I am so glad I did. I have never experienced any fragrance like this - I agree strongly w/ the other reviews. When I first applied this, it took my breath awayyyy - had to sit down! As the scent lingered, it was still amazing on my skin & clothing. I will definitely purchase this!. Thank you
Written by CJ on October 11, 2012
Read Review details ►
Creed Love in Black is a complicated and wonderful fragrance. At first the violet is dominant, but hours later the most beautiful complex scent starts to envelope. It is a very feminine and luxurious scent that I want to keep smelling. The dry down is subtle yet floral. It doesn't give me a headache. I love perfume, but many make me ill, as I am migraine prone.I want to swim in it.
Written by ferryfan on May 01, 2012
Read Review details ►
One of the first CREED purchases I ever made, this is amazingly complex, unique, and like nothing I've ever smelled before. As one reviewer wrote, the violet is haunting. Well said. This is not your average violet scent - this is an other worldly, intoxicating violet. There are hints of caramel and vanilla and other spices as well. My true favorite CREED. Been wearing this for years now, and I always re-buy it.
Written by Goldie on March 20, 2012
Read Review details ►
Creed Love in Black is at the top of my list of favorite fragrances! Every time I wear it, men and women stop me to ask what I am wearing. Knowing that Oliver Creed and his son created this scent for Jacqueline Kennedy makes it all the more precious. It is a unique fragrance that smells like nothing else I have ever worn. I love many of Creed fragrances - Vanisia, Fantasia de Fleurs, etc., but Love in Black was created with scents from the Virginia woods where Jackie rode her horses, from the island of Skorpios where she lived with Onassis, and from her beloved Paris. How could one go wrong with this perfume?
Written by festivelady826 on December 11, 2011
Read Review details ►
This is a floral fragrance I suppose, but it's more than that. There are some pleasant surprises as it melds with my body chemistry. Will DEFINITELY purchase again. LOVE!
Written by doggymommy on June 27, 2010
Read Review details ►