write a review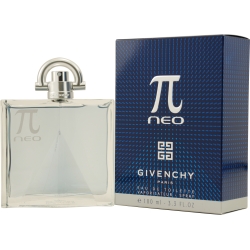 With its spicy scent, Pi Neo by Givenchy is a fantastic choice for the man looking for a casual fragrance. Introduced in 2008, Pi Neo features a combination of mandarin, myrtle, patchouli, cedarwood and bergamot notes, making this the perfect cologne for the man who wants to be remembered. Whether it's worn around your closest friends or in the company of strangers, Pi Neo is certain to bring you the smiles and compliments you deserve.
Write a review and share your opinion about this product with others.
Just fill out the form below and click the "submit review" button.
Thank you for your effort. We appreciate it.
We'd Like to Thank You
to receive special offers & coupons! (optional)
Pi Neo manages to be a sparkling mimosa that's still absolutely masculine. Bright orange and mild patchouli married with an extra sweetness of vanilla and sugar. This is all anchored a cedar smell that is lightly done (reminicent of champagne in that mimosa!) Familiar scents that produce a really unique signature fragrance.
Written by Anonymous on June 22, 2014
Read Review details ►
What I love most about Pi Neo is its versatility; it can be worn at the office midday all the way up to an intimate evening on date night. This is very good for those who prefer the sweeter smell to a more "masculine" scent. It has longevity,but is also subtle. Although I don't generally like to compare products, Pi Neo is very reminiscent of Burberry Brit so if you like one, you're sure to like the other
Written by Casual J on January 11, 2014
Read Review details ►
Pi Neo- A great scent for a reasonable price!! Thanks fragrancenet for making everything pleasant!!
Written by Bobbo on October 02, 2012
Read Review details ►
Pi Neo is a great smell. I wasn't sold at first but have grown to love. It's not overly strong but still smells nice. I would recommend to anyone.
Written by DAS on August 13, 2012
Read Review details ►
I really like the way it smells on me, it has a really nice & clean smell. I wear it mostly for work, dont think i would wear it to go out to the club or anyplace where it would be un-noticed or over powered by stronger sents, would be really great for intimate moments such as a quiet dinner or for any moments where you find you will be really close to her, kind of draws 'um in.....if you know what i mean! if there was one thing i would say i dont care for is that its just a little to subtle but still a very nice cologne.
Written by 2sexy4u on October 06, 2011
Read Review details ►
I never tire of this fragrance. I receive many compliments on the cologne and it last a lot longer than most. I mix it up with others sometimes like Guerlain Homme which adds layers of fragrance (a trick I learned from a model). Enjoy.
Written by Michael on May 24, 2010
Read Review details ►
Least for about 5 hours. You have to put more on than others. 3 pumps and you are set. Very nice smell that can be worn anywhere and anytime of year.
Written by SHughes on May 23, 2010
Read Review details ►
I really enjoy the smell that PINEO by Gievnchey this mens cologne has a real nice scent to it. I think any women would enjoy on her man.
Written by Wen on April 21, 2010
Read Review details ►
What I think of Pi Neo does't really matter. What does is that every single time my fiance catches a whiff of it, she turns and buries her face in my chest and takes a deep breath. Isn't that the point, after all?
Written by Anonymous on February 09, 2010
Read Review details ►