write a review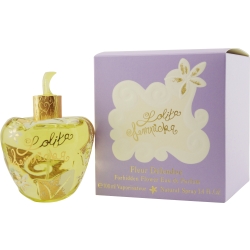 Lolita Lempicka's Forbidden Flower Perfume proves that new fragrances can be just as appealing as classic scents. Introduced in 2008, this casual scent for women combines a unique selection of fruity and floral extracts, including iris, violet, heart, strawberry leaf, mimosa, aniseed flower, peony, absinth flower, and other fruity accents. This delightfully feminine scent is intense enough for date night yet subtle enough for a day at the office. Apply it liberally and enjoy hours of long-lasting fragrance.
Write a review and share your opinion about this product with others.
Just fill out the form below and click the "submit review" button.
Thank you for your effort. We appreciate it.
We'd Like to Thank You
to receive special offers & coupons! (optional)
I loved the smell, but on me it only lasted about 45 minutes. I tried it again after my shower the next day and it still only lasted about 45 minutes. the smell is soft floral/slight power, I do not smell any gardenia or vanilla, thank goodness, more of a soft rose maybe.... can't really tell since it doesn't last that long to get a good scent. I did purchase the edu parfume. I would say it's a good smell for the office/work since it's not very strong and should not offend anyone. ( beautiful bottle and color)
Written by Vanessa / Olympia on April 19, 2014
Read Review details ►
I love Forbidden Flower. It is a very nice perfume. It smells so good. The flowers and sweets are truly amazing. My daughter that has Downs laid on my neck smelling me. Umh smells good! I put some on her this morning for school.
Written by Mona on February 26, 2014
Read Review details ►
LL Forbidden Flower smells good if you like the other fragrances from this brand. Cute little bottle and the scent lasted several hours.
Written by mstarajane on February 21, 2014
Read Review details ►
It took me awhile to figure out how to spray thru the stem, after I had pulled top off. It is a light floral fragrance but didn't last to long on me. So I had to spray it on several times thru the day. Finally it stayed better and was a nice scent. I like most of her scents. It is not my favorite but comes close.
Written by peach on February 06, 2014
Read Review details ►
So glad I finally tried this scent. I just want to say I want more. Beautiful, soft but sexy, and just different from other fragrances. Please keep this one coming. By the way I have allergies to a lot of scents but not the Lolita fragrances I've tried. I agree just a tad hint of musk undertones but I like this one although I'm not a fan of musk scents. Love, love, love.
Written by Buttoneyeys on September 09, 2013
Read Review details ►
Lolita Lempicka is one of my favorite scents. It is a fruity/floral perfume and has a light, powdery scent. It is definitely a feminine scent made for all ages. I've worn the original scent for years and purchased the Forbidden Flower which isn't as intense as the original and I LOVE it. And it last for a very long time.
Written by catherinem on August 22, 2013
Read Review details ►
It's one of the most beautiful scents that I have ever used. I love her other scents, but that one is my favorite. The bottle (all of them) is a work of art as well. It is a scent that is perfect for anywhere. I get so many compliments when I wear it.
Written by paula on April 10, 2013
Read Review details ►
An amazing smell that stays with you for hours. First time I buy this scent and loved it.
Written by Carmen on December 24, 2012
Read Review details ►
I love Forbidden Flower--not too soft, not too strong. When I went to use it though, I couldn't figure out how to open it ( it actually doesn't open), and then I discovered that the "stem" is the sprayer! How cool is THAT? Anyway, the scent is different, unlike a lot of them out there that seem to smell similar to one another. This one, however, stands out from the rest with its sweet but flowery essence. I think it has a little bit of musk in it as well, because after it's been on my skin for a while, I smell a "grassy" scent which I've noticed with other perfumes that have musk in them. I know I will be wearing this quite often, it smells THAT good.
Written by Paula on April 24, 2012
Read Review details ►
I couldn't forget the scent from the very first time the sales lady introduced it to me over the counter..... intense but not overpowering..... flowery with hints of licorice.... delightfully powdery feminine scent that just works sooooooo well with my own body chemistry..... just absolutely LOVE it......
Written by Ida E. on March 03, 2012
Read Review details ►