write a review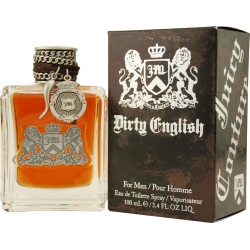 A fresh and engaging scent that's resonant and masculine, Dirty English cologne for men was introduced by Juicy Couture in 2005. A moderate blend of notes with elements of leather and tobacco, this fragrance is great for men of any age and will be at home at any casual event. Dirty English precisely balances flavorful notes including amber musk, atlas cedar, mandarin, bergamot, vetiver, wood, black leather and blue cypress. It's the perfect choice for men who enjoy a contemporary scent.
Write a review and share your opinion about this product with others.
Just fill out the form below and click the "submit review" button.
Thank you for your effort. We appreciate it.
We'd Like to Thank You
to receive special offers & coupons! (optional)
I had been contemplating purchasing this fragrance for quite some time, and I am quite elated that I finally did. Nothing dirty about this unique and intoxicating scent. It's man's cologne; smooth yet unabatedly rugged. It's unwitingly recognizable and indefinably charming.
Written by Wil on June 18, 2013
Read Review details ►
I was really surprised by this one,i found a new one to add to my favorite list.
Written by Anonymous on March 18, 2013
Read Review details ►
I bought this fragrance for my boyfriend as a 21st birthday present. He usually use the Axe body spray which is super strong, and smell kinda weird after a while. After I gave it to him, he puts it on right then and there. After he sprayed it (2 spray, max), I could smell him from at least 2-3 feet away. As soon as he puts it on, I swear I was pretty much glued to his neck. It's such a unique sent. after a hour or so...starts to smell spicy...and leathery at the same time. It kinda reminds me of...D&G Light Blue. It was such a unique scent. He told me that all co-workers and friends ask what he wears. I'm pretty sure this is his new signature scent. This scent I believe any age cold pull off. Just need the confident, and personality to rock it.
Written by KristinMarieGeeBBY on August 18, 2012
Read Review details ►
Got introduced to this through a magazine on a flight. Landed and next day to the perfume store to buy it. The ingredients and the name appealed to me. Love this perfume!
Written by gr8leo87 on August 12, 2012
Read Review details ►
I found out about this when I ordered another frangrance - it came as a sample. All I can say is the I get great compliments on this and for the price - it's way worth it!
Written by Champ on April 09, 2012
Read Review details ►
EXCELLENT scent! --- Your girlfriend will love it!
Written by jjj on December 12, 2011
Read Review details ►
I was first introduced to this fragrance (dirty english by juicy couture) by a male just passing me while I was shopping. The fragrance was so inticing that I asked him what he was wearing. I immediately suggested to my boyfriend, now my fiance that he must smell this cologne. He not only liked it but he purchased it as well. The sex between us was already great but with a little "dirty english" it's definetly the BOMB!
Written by Natasha Perry on July 18, 2011
Read Review details ►
I found Dirty English just over two years ago and use nothing else. I have worn others, British Sterling, Aramis, others quite expensive and I just cannot say anything delivers like Dirty English. Office, casual or an evening out, it is the only one I wear and I receive compliments wherever I go on the fragrance. I am a grandfather and yet younger women ask what I am wearing and where to get it for their husbands/boyfriends. What stronger recommendation would one need?
Written by RMC on July 10, 2011
Read Review details ►
Sexy is all I can say, bought it for my husband and Ive never regretted!!
Written by michelle on June 04, 2011
Read Review details ►
I bought this for a male friend. I was not too keen on the name (nor was he) but when I sniffed this cologne I got it: it smells like a black motorcycle jacket. Definitely black leather, sweetened with a bit of tobacco. Great stuff. Guys, this woman at least will follow you around with this cologne.
Written by DLP on November 27, 2010
Read Review details ►