write a review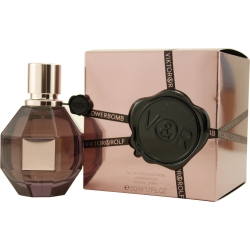 Flowerbomb Extreme by Viktor & Rolf is a woman's perfume that features a floral scent. Since its introduction in 2006, its combination of bergamot, jasmine, osmanthus, white flowers, amber and vanilla has made this a great choice to complement your favorite evening outfit. Its elegant scent is perfect to wear for a night out when you want to turn heads your way. Whether you wear it for an evening out with friends or during a romantic dinner for two, Flowerbomb Extreme is sure to be a hit.
Write a review and share your opinion about this product with others.
Just fill out the form below and click the "submit review" button.
Thank you for your effort. We appreciate it.
We'd Like to Thank You
to receive special offers & coupons! (optional)
Best perfume I've ever worn. I always get comments from people whilst wearing this. It also makes me feel a million dollars when I have it on. Love it, definitely my go to scent and I will be devastated if it's ever discontinued!!!! I love the extreme more than the original one.
Written by Traceeann on April 06, 2014
Read Review details ►
This is a show stopped of a fragrance. If you love floral fragrances, you will like this. I wear it all of the time.
Written by Lindy Lou 2 on November 06, 2012
Read Review details ►
I started wearing the normal flowerbomb perfume and loved it, then I discovered flowerbomb extreme and love it even more. I always get comments and compliments from fellow workers and customers where I work. I wear flowerbomb extreme every day. Please dont ever discontinue this perfume.
Written by Kathryn on October 12, 2012
Read Review details ►
Flowerbomb Extreme perfume. I first smelled this in a magazine a few years ago. Had the regular Flowerbomb in the small .24ml bottle, then a friend wanted the smaller bottle so I bought the regular Flowerbomb refill. Then decided to buy the stronger Flowerbomb Extreme after reading reviews. Couldn't be happier. Don't want to share the scent with anyone since it's so unique. No problem with it being expensive, remember this isn't "Evening In Paris" toilet water in the blue bottle with fake gold cap from the 1970s. I have 5 bottles for fear of it being discontinued.
Written by Brian with a nose for great scents. on September 12, 2012
Read Review details ►
I first smelled Flowerbomb in a magazine and loved it. I bought a very small bottle of it and absolutely loved it. When I decided to purchase a larger bottle, I noticed there was an "Extreme" version. I was worried that it would be too strong of a scent but it is perfect. Just a little bit more intense than the original. I am worried about the other reviews stating that this line is going to be discontinued....I will need to stock up!
Written by Beth on August 08, 2012
Read Review details ►
My all time favorite perfume. It is my go to fragrance. I get compliment after compliment when I wear it. The extreme is manufactured only once a year at Xmas time. A must buy...even if not the extreme.
Written by sloane the alchemist on March 12, 2012
Read Review details ►
My son first brought this perfume to me from Germany, as a birthday present. I have been wearing it for about 8 years. Before it was very popular here, people, espically men use to ask me, What is that perfume your wearing? I could put it on at 6 am and you could still smell it at 7 P.M. This is my signature fregrance! I intend to purchase the extreme, I hope its as good as the regular one.
Written by Salt21 on March 09, 2012
Read Review details ►
I was at work flipping through Instyle and there was the ad and fold over scent flap for Flowerbomb.. I flip the flap, sniffed the page and then rubbed my wrist on the page. WOW! I kept smelling the page and sniffing my wrist and telling all of my coworkers they needed to smell this. It was very intoxicating. I have never had such a reaction to a perfume before. This is a very special perfume and I am so glad I discovered it for myself. It is out of my price range for sure.I have yet to puchase it for, but I will soon treat myself.
Written by creativity139 on December 11, 2011
Read Review details ►
Last time I gave my review, I hadn't purchased Flowerbomb Extreme. I bought the 1 oz. & I'm so sorry I didn't buy the 1.7 oz. I totally agree with other reviewers, I CANNOT live w/o this perfume & now that I know L'Oreal (they must be out of their minds) are discontinuing the Extreme version when they should be expanding it, I am going to stock up on it. It's almost not worth living if you can't have this scent. I've never felt like this about a perfume. EVER!! To those who are thinking about buying it but have not tried it, go for it. I swear you will never be sorry about it. Just leave me some. lol
Written by Gia305 on November 27, 2011
Read Review details ►
I first fell in love with Flowerbomb when it was first launched....one sniff and I was hooked! I am not easy to please and I'm always looking for that 'special' fragrance' this one took me by surprise I loved it and purchased a bottle right there and then. However, the fragrance didn't seem to last very long and I was thrilled when Flowerbomb Extreme was introduced. It is a stronger version of it's orginal but not overpowering by any means. Hope it never gets discontinued!
Written by Zoe (from Canada) on November 14, 2011
Read Review details ►