write a review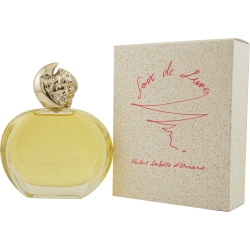 When you want to create a little mystery in your romance, turn to the alluring fragrance of Soir De Lune. Released in 2006 by Sisley, this perfume is ideal for the woman who wants to show her passionate side. Stimulate unbridled attraction with an intense floral heart of jasmine, lily and rose. Arouse the senses with high notes of mimosa and sweet honey. Slight whiffs of sandalwood in the base notes speak to your overwhelming confidence.
Write a review and share your opinion about this product with others.
Just fill out the form below and click the "submit review" button.
Thank you for your effort. We appreciate it.
We'd Like to Thank You
to receive special offers & coupons! (optional)
I am a perfume fanatic, and when I found SDL in the summer of 06 in London I was encapsulated!!!! The notes are sooooo dreamy, as they compliment my pheromones to a tee. A thousand compliments I receive every time I wear Soir De Lune! Until something comes along and move it out of the way, it's the right shower gel, body creme and perfume for me... If you don't fall in for this fragrance, then, oh well… more for me to purchase and wear. Cheers to you Sisley House for not being a fool and discontinue this fragrance. You've got a WINNER with SDL!
Written by LadySugah on March 10, 2014
Read Review details ►
Soir De Lune is the only fragrance for me NOW.I am so allergic to LOTS of very expensive parfums,and run when I get whiffs of such offending scents,but Soir De Lune is the Rolls Royce of parfums;always pleasing,...never turning ugly ....just simply TITTILATING!;-)
Written by Tee from St.Louis on February 17, 2014
Read Review details ►
I call Soir de Lune my Rich Lady fragrance, not only for the price but for the scent and how it makes me feel. It smells rich, elegant, complex and sophisticated. At first I saved it for special evenings, but now wear it everywhere so people can stop me and tell me how beautiful I smell. It has various layers, and the layer I start out with in the morning has become softer and softly sweeter at night. It's fun being surrounded in this beautiful subtle and elegant smell so I always make sure I am dressed nicely enough to be accompanied by Soir de Lune. Made for a leading Lady and one that wants to be remembered.
Written by Madeline Solk on November 02, 2013
Read Review details ►
One day when I came to office, I found out nice smell there. I asked who have been here? Our customer just left and every time she came I know she has been here because she has smell of "Soir De Lune". I found perfume at this website and I was worry because almost price 2 time less when at retail store but I read review and I decided to buy. When my husband came home and he just opens the door from car and asked me what is so beautiful small at garage? It had kept everywhere from morning. I happy it smells match for my body too and give so rich perfume's train!
Written by El on August 28, 2013
Read Review details ►
Having read the previous reviews I thought I would purchase this perfume. I am so glad I did! I love the fragrance, have worn it twice and received compliments from many people on both occasions. This is a winner for me!
Written by Sue A on August 20, 2013
Read Review details ►
I love this fragrance. It's really impossible to buy in Australia, so it's definitely best to purchase via Fragrancenet. My description above does not do it justice - this is both light and subtle and spicy and flowery- it is the most complex, layered perfume Ive ever worn. Look up the designer - a very respected, original perfumiere. This is an expensive fragrance, normally, but if you wear it you will be asked about it, and remembered. Uniquely beautiful.
Written by Jenibo on August 15, 2013
Read Review details ►
I have worn Soir De Lune for three years and receive compliments every time I wear it. I love perfume but this fragrance is always my first choice.
Written by Anonymous on June 21, 2013
Read Review details ►
I,ve been using Soir de lune for the last 2 years. Ever since, I,m not able to wear any other fragrance. I,have never had as many compliments on any other fragrances!
Written by Gisele Smith on January 10, 2013
Read Review details ►