write a review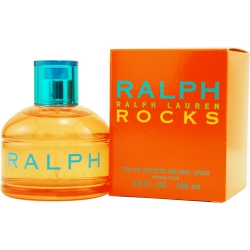 A moderate but enticing fragrance from iconic designer Ralph Lauren, Ralph Rocks perfume for women is a resonant, citrusy scent for a variety of casual occasions. This evocative perfume, first introduced in 2006, perfectly blends fruity and outdoor elements in a thoughtful balance. Its many appealing notes include kiwi, sandalwood, amber, freesia, palm leaves and hyacinth. Whether you're spending the day with friends or having coffee with that special someone, Ralph Rocks is the scent you can count on.
Write a review and share your opinion about this product with others.
Just fill out the form below and click the "submit review" button.
Thank you for your effort. We appreciate it.
We'd Like to Thank You
to receive special offers & coupons! (optional)
this is a fun slightly fruity sweet scent. Has a long lasting smell and you don't need much.
Written by eli2183 on July 03, 2014
Read Review details ►
Ralph Rocks is a perfect combination of fruity and flowery notes. Not too sweet, not too powdery, but very well-balanced and pleasant. Bright and joyful scent which makes me happy. Highly recommended to anyone who prefers fragrances which are fun to wear!
Written by Valery on March 14, 2013
Read Review details ►
Got the item to give as a gift and it was sent very quickly. Great service.
Written by Anonymous on December 24, 2012
Read Review details ►
So upset that Polo discontinued the Hot, Rocks and Wild. Thankfully the new Pony for Women - 1,2,3 and 4 line smell so similar (at least in the magazine-lol) waiting to replace Rocks :)
Written by Bonnie on April 03, 2012
Read Review details ►
I really really really LOVE Rocks by Ralph Lauren. I am very upset however that it is being discontinued. It is the only fragrance I wear. It is the perfect scent for everyday or evening. I always get compliments on it when I wear it. I also love that it isn't a strong, heavy scented perfume would offended people as they walk by you. I really hope Rocks doesn't become discontinued. It is my favorite of all time and nothing can compete with it!
Written by Shelley P. on December 10, 2011
Read Review details ►
Ralph Lauren Rocks is the Best!! why they discontinued it I will never know!! I am a longshorewoman in the LA/LB Ports and I work around alot of people, I get compliments all the time from women and men of all ages! Plus in our line of work everthing is high visability Orange (safty first) so the orange bottle is perfect! Please bring it back to the stores!! I don't want to wear anything else!
Written by Desiree on September 28, 2011
Read Review details ►
Ralph Rocks is by far my FAVORITE fragrance!! I get compliments all the time from men & women as well!
Written by Sophia on June 29, 2011
Read Review details ►
I've used Lauren scents most of my adult life and I get, by far, the most compliments for Ralph Rocks...even men and women who are total strangers approach me to ask what scent I'm wearing. Never understood why it was discontinued in stores. Thanks for carrying it!
Written by Mary Ellen on March 18, 2011
Read Review details ►
ralph rocks is such a nice scent. very pretty and subtle enough for anytime. i love it. i bought the sample to try it and now i know to buy the big bottle! i love all the ralph fragrances.
Written by suerp on November 15, 2010
Read Review details ►
I LOOOOOVE this perfume. It's my favorite. However, I purchased a bottle that came without the box, as it's supposed to be legit perfume, just the original packaging was damaged. However, after only using the bottle twice, the spray pump does not work. I tried to get the cap off and exchange the pump with another bottle I have, but it's impossible to remove. So I have a perfectly good, full, bottle of perfume, that I can't use.
Written by Kelsi on July 19, 2010
Read Review details ►