write a review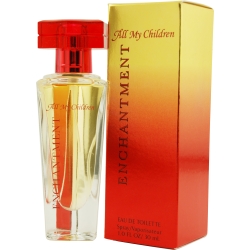 Enchantment is a fun yet elegant way to show off your femininity and give yourself that fantastic sense of quiet confidence you'll need to get through the day. With a scent that's easily noticeable but not overbearing, this casual fragrance is great for any occasion, whether you're at the office or on a night out with friends. The delightful aroma of this AMC Beauty creation will last the whole day and is perfect for everyday use.
Write a review and share your opinion about this product with others.
Just fill out the form below and click the "submit review" button.
Thank you for your effort. We appreciate it.
We'd Like to Thank You
to receive special offers & coupons! (optional)
I ordered Enchantment on a whim because it was inexpensive and I thought I'd give it a try. Little did I know that Amc Beauty stood for the Soap Opera "All My Children", so when I found that out upon opening the package and reading the box, I was surprised. I'm 20 and in college so I thought "great, this is gonna smell like old lady perfume". To my surprise it smelled great! I think it's a bit of an oriental spicy smell...no clue why it's classefied under smelling as flowery. I do love this, & I will re-order again once I run out.
Written by Kayla Marie on September 09, 2013
Read Review details ►
Love Enchantment. Have been wearing this fragrance for years and will continue to use as long as I can find it. Lots of compliments.
Written by Anonymous on February 19, 2013
Read Review details ►
This has been my favorite for several years now. My loved ones identify it as my scent and strangers often comment about how good I smell. It is a subtle yet distinct scent and I have yet to find an acceptable substitute for it. Although I enjoy several other scented lotions/perfumes/etc., Enchantment is the perfect perfume for me and accents my chemistry.
Written by BPifer on October 01, 2012
Read Review details ►
I CAN ACTUALLY SAY THIS WAS MY FAVORITE AND WILL CONTINUE TO BUY ITS LAST FOR HOURS AND I LIKE THAT A LOT BEST PURCHASE EVER AND THE PRICE WAS FANATASTIC
Written by BOBBIE L on September 26, 2012
Read Review details ►
I love this perfume and had bought 7 bottles when it first came out at a local store, they were only 5.00 a piece and was in a larger bottle. I do get wonderful compliments when I wear it. But it seems now that it doesn't last as long as when it first came out.
Written by Sallie on June 02, 2011
Read Review details ►
I have received compliments on this fragance by many people. I really enjoy wearing it. The cost is very reasonable.
Written by NIta on December 13, 2010
Read Review details ►
Inchantment body spray, LOVE IT have received more compliments with this spray than any i have ever tried. All 3 of my daughters love it and my granddaughters. perfect for anytime.
Written by ginger on August 16, 2010
Read Review details ►
I really love Enchantment it is not a real strong fragrancent. I enjoy wearing it daily. I also get a lot of complements on its fragrant.
Written by Barb Gann on July 27, 2010
Read Review details ►
I love Enchantment. It's subtle fragrance makes me feel exotic.
Written by Pam on June 10, 2010
Read Review details ►