write a review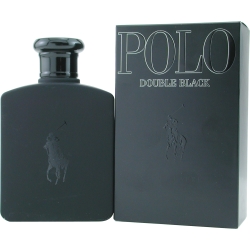 Introduced in 2006, Polo Double Black by Ralph Lauren is a bold men's cologne that transcends traditional sensibilities with its intense blend of scents. Deeply masculine, this fragrance executes rich woods in its top layer and spicy nutmeg, pepper, and cardamom as it settles. It lends an aura of elegance and refinement to the wearer, making it the perfect evening scent to impress friends and strangers. Whether you're exploring the nightlife or meeting a date, Polo Double Black is sure to make you unforgettable.
Write a review and share your opinion about this product with others.
Just fill out the form below and click the "submit review" button.
Thank you for your effort. We appreciate it.
We'd Like to Thank You
to receive special offers & coupons! (optional)
Polo Double Black is my favorite cologne/aftershave. Women of all ages freely give compliments and want to know what fragrance it is. I wear it daily for all occasions.
Written by Fuzzy T. on August 19, 2013
Read Review details ►
Polo Double Black Aftershave has a nice appealing fragrance.
Written by Sandra--J on March 07, 2013
Read Review details ►
Love this scent and can't get enough of my husband when he wears it. It is sexy and masculine and one of the most desired (by me!) fragrances he has. I marked this as intense but only for the first hour and than it wears to a great scent, not overbearing at all. Men buy this if you want the woman in your life to be closer to you (and I do mean closer!). She will love it and you will love the results. Women this is a great gift for hubby and yourself.
Written by HappyinCO on March 23, 2012
Read Review details ►
looking for the deodorant and body wash as well inthis fragrance (Polo double black)
Written by anthonyg on March 16, 2012
Read Review details ►
Polo Double Black is my number one cologne. This intoxicating fragrance is very unique. There are many good colognes on the market, but this stands out above the rest in my opinion.
Written by Schnak on February 07, 2012
Read Review details ►
Polo Double Black is an excellent fragrance. It lasted 8 hours on me, which included a trip to the gym, and would have lasted longer had I not showered. PDB is a warm smell that doesn't overpower. It oozes class and sex appeal. The fragrance has some sweetness to it, but not cloying, I wouldn't mind smelling it all day. This is my personal holy grail of fragrances. Give it a try!
Written by Ty on January 24, 2012
Read Review details ►
I ordered Polo Double Black some time back and my wife and I both find it to be too sweet and not a particularly enjoyable scent. I'll be ordering something different next time.
Written by Anonymous on August 30, 2011
Read Review details ►
This cologne smells so so good! This cologne is the reason I met my fiancé and fell in love! This stuff drives a woman crazy!!
Written by Anonymous on April 03, 2011
Read Review details ►
I bought this for my dad as a gift. Alas he prefers the sweeter colognes, (he snitched my Casmir perfume), but I adore this. It has that wonderful roasted coffee smell on a rich base. Gentlemen, if you wear this, look out for a redhead following close on your heels. It'll be me!
Written by DLP on November 03, 2010
Read Review details ►
love the opening notes, dry down is not bad either.
Written by waltron on April 21, 2010
Read Review details ►