write a review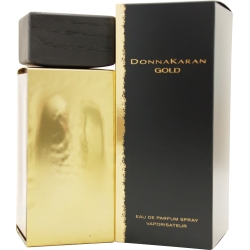 Donna Karan Gold is a sophisticated fragrance by Donna Karan that is sure to be a favorite addition to your casual wardrobe. Introduced in 2006, Donna Karan Gold is the perfect feminine fragrance to wear at the office or on a day out with friends. The scent combines the musky notes of gold pollen, golden balsams and fluid amber patchouli with the light floral aromas of acacia, Casablanca lily and jasmine templar. Spray the perfume on the creases of your arms for a scent that will last all day long.
Write a review and share your opinion about this product with others.
Just fill out the form below and click the "submit review" button.
Thank you for your effort. We appreciate it.
We'd Like to Thank You
to receive special offers & coupons! (optional)
I bought this after reading reviews that said that it smelled like Madonna lilies, just like Easter lilies. Well, it sort of smells like Easter lilies, but not quite. Nice scent and has OK staying power. Was a bit disappointed though, as I was expecting a big lily scent.
Written by LindaSue on June 29, 2013
Read Review details ►
Very pleasant scent, but only last a couple hours, I got a lot of compliments when I wore it
Written by wankaye on January 23, 2013
Read Review details ►
Just like the comment made Jan 10th 2010 or so by another lady, I too love, love this fragrance however, can't wear it any longer! Like the previous comment on 2010, I purchased it 3 weeks ago and started to experience Sinus issues, (i.e. stuffy nose and bleeding through the nose), headaches. I decided to stop using it for a week and all symtoms are gone!! Just know that it will probably not happen to everyone, just a select few. I'm truly sorry I won't be wearing it because it had become my signature fragrance ;(((((( Best of luck to everyone!
Written by Mags on February 02, 2012
Read Review details ►
"Gold" does for lily what "Fracas" did for gardenia - makes it more beautiful than it started. Adding in the pollen makes wearing "Gold" like walking around all day in a beam of sunshine surrounded by beautiful flowers and trees. The scent is floral without being overwhelmingly so and includes woods and spices that give it an extra kick. I love it!
Written by Katy on May 31, 2010
Read Review details ►
I love Donna Karan fragrances so I was very excited to try DK Gold. I am super upset! I cant wear it any longer...why? Migrains, sinus issues, watery eyes. I was trying to figure out for weeks why I was experiencing all that. Until it dawned on me that it all started since I began to wear DK Gold. Believe me I am super sad because I love love this perfume!
Written by Jenimac on January 03, 2010
Read Review details ►
As far as Donna Karan gold-I was very diappointed.I have used her Donna Karan Mist for years and I love it.I tried this one because I wanted a lotion and perfume & you didn't offer that in the Mist,so I thought I'd try this-I'm sorry I did.
Written by Sandra A. on December 21, 2009
Read Review details ►
Donna Karan Gold is my favorite scent, especially for evening wear. It is a drop-dead sexy fragrance for grown-up, sophisticated women.
Written by Sam on October 19, 2009
Read Review details ►
I bought this perfume and my mom loved it. She still asks me to buy her one
Written by Amanda on October 01, 2009
Read Review details ►