write a review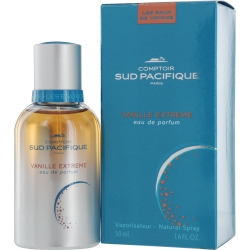 Comptoir Sud Pacifique Vanille Extreme by Comptoir Sud is a sweet and alluring perfume for women. It mixes three varieties of vanilla-vanilla sugar, vanilla absolute and vanilla bean-for full effect. Hints of heliotrope and milk round out the scent's bouquet. First brought to the market in 2006, this perfume works well for casual events and romantic engagements. The fragrance also provides a great finishing touch for casual clothing as well as outfits appropriate for a night on the town.
Write a review and share your opinion about this product with others.
Just fill out the form below and click the "submit review" button.
Thank you for your effort. We appreciate it.
We'd Like to Thank You
to receive special offers & coupons! (optional)
I've always been a fan of Comptoir Sud Pacifique, and I'm so glad I gave vanille extreme a try. It smells absolutely delicious! It's a true vanilla scent, very warm and inviting. It reminds me of Victoria's Secret Vanille Caramel that was discontinued in the 90s, and I've been looking for a replacement ever since. This is the one! My husband really likes it, too. It's not a kid-type scent, it's a comforting, full-bodied vanilla that smells kind of exotic. I wear it often and enjoy it very much!
Written by DiamondGirl on July 26, 2012
Read Review details ►
I hope my review stands out among all the others I read before buying this product. I read nothing but good reviews on how its amazing! ...I will say that it is very nice for some people but it smells a little fake to me and I bought it for my mom who cant wear anything strong I thought it would be a yummy baking vanilla scent, it is more of a perfumey vanilla and it is to strong for her...So I will say it does smell good but a little on the strong side for me.
Written by Anonymous on June 06, 2012
Read Review details ►
THE BEST EVA!!! women want me, men want me NO JOKE!!! crazy good!! please keep it in stock for eva!
Written by Erika on December 23, 2011
Read Review details ►
Comptoir Sud Pacifique Vanille Extreme is the best fragrance I have ever come across. I'm very sensitive to smell so this is perfect as you can smell it but it doesn't overpower. I get so many compliments when people smell this on me. The only drawback is that it needs to be applied again during the day as it does wear off. Otherwise, PERFECTION! If you love vanilla, this is the best way to go
Written by Suze on December 14, 2011
Read Review details ►
The moment I sprayed this on, people were asking me what it was. It's not overpowering, and has a sweet caramel vanilla scent. I love it!
Written by Dayle C. on November 29, 2011
Read Review details ►
Vanilla Extract, with sticky sweet caramel...AWESOME!!!
Written by Anonymous on November 10, 2011
Read Review details ►
Comtoir Sud Pacifique Is the best Vanille scent ever. The Men love it!!! When I go to my work out there's a trainer who go's nuts over it... follows me around saying how great I smell!! Please keep it in stock I plan on buying alot of it. It's a vanille caramel cotton candy, kinda scent Love it!
Written by Sharon on August 06, 2009
Read Review details ►
Comptoir Sud Pacific Vanille Extreme Is the best Vanilla scent I have found since Victoria Secrets "Vanille Carmel" that was retired in the 80's. I wear it day or night. I have never got so many compliments on this scent in my life I absolutley love it, and more importantly Men love it and always ask what I'm wearing that I smell so great!!! Please keep it in stock!!
Written by Sharon on August 01, 2009
Read Review details ►
If you're a vanilla lover like me,(think vanilla extract or vanilla cake batter), this is for you. This scent is somehow relaxing and comforting; yet sophisticated; not childlike cologne. Remember, this is PURE VANILLA; do not expect an amalgamation of other scents. Would highly recommend.
Written by Linda on July 29, 2008
Read Review details ►