write a review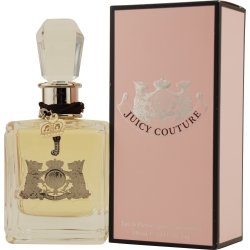 Smell beautiful all day with Juicy Couture perfume by Juicy Couture. This women's fragrance has elegant notes of mandarin, watermelon, hyacinth, lily, caramel, wild rose, and others that make it unique and striking without being overwhelming. This mature fragrance has a moderate strength that suits most casual situations, whether you're headed out with friends for a night at the movies or going to a baseball game with your child's little league team and family members.
Write a review and share your opinion about this product with others.
Just fill out the form below and click the "submit review" button.
Thank you for your effort. We appreciate it.
We'd Like to Thank You
to receive special offers & coupons! (optional)
You can use the Juicy Couture shower gel and sorbet cream and the fragrance is awesome. It is not always necessary to use the cologne. Save that for a quick touch to the fragrance later in the day or evening. It is not overwhelming fragrance and just gets better the longer you have it on. I think it is good for all ages.
Written by LVS on September 18, 2014
Read Review details ►
This is a wonderful fragrance. A little sweet, very floral and literally lasts all day. I got asked if I had just put something on after I'd been wearing it for 8 hours already. It is suitable for any occasion, even as an every day scent. Definitely worth it to buy here for a fraction of the price. And this one brings lots of compliments!
Written by MsWinkssy on May 18, 2014
Read Review details ►
I love juicy couture. My husband loves it and when I am out I get a lot of compliments on how good I smell even when I am at work. I will never buy any where else besides fragrance . net.
Written by Kissamia on May 18, 2014
Read Review details ►
I am in love with this perfume.....I received from my boyfriend two years ago as a gift I allowed his mom to take it from me and I finally was able to order it here for a great price and she took it from me again because the scent is so dreamy...I will be ordering it again for myself this time and plan on trying the others as I have with Viva la Juicy...Thank you fragrance net...Please get Coco Channel soon.
Written by Rosa on April 24, 2014
Read Review details ►
I bought this for my daughter-in-law's birthday. It is her favorite fragrance. Someone once asked, who smells like a Diva? And, she had to answer it was she. I think the fragrance is lovely and she's only 21. I can't really give it a scent classification because it encompasses a lot of them, like flowery, fruity and woods.
Written by IG on April 08, 2014
Read Review details ►
i bought the juicy couture dusting powder and love it! it smells so good and the container is larger than I thought it would be. very pleased with this item!
Written by irategirl on March 19, 2014
Read Review details ►
I love and wear Juicy Couture, people I meet stop me and ask what are you wearing it smells so good. At work they will come in my office and comment on how my office always smells so good. Love it!
Written by Gwen on February 20, 2014
Read Review details ►
Loved, loved, loved! I absolutely loved this fragrance, I always wanted to try it out and was a bit skeptical to purchase a fragrance online that I had never tested out before. I was pleased, it's the type of fragrance I would wear, elegant, feminine, just the right blend of scents to entice you to keep coming for more :)
Written by rubiesroses on February 19, 2014
Read Review details ►
I used to wear something else until they changed formulas and was looking for a new "go to" fragrance and fell in love with this, now it's my favorite!
Written by AliceG on February 19, 2014
Read Review details ►
I will never purchase Juicy from a department store again. It has been my signature scent for years and will remain so for half the price from now on. Thanks fragrancenet!
Written by Candice on February 18, 2014
Read Review details ►