write a review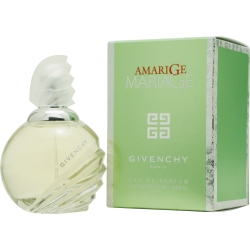 Amarige Mariage by Givenchy is a casual fragrance that can be worn every day in the office and straight to the boardroom. Introduced in 2006, this feminine fragrance will let others know you appreciate sophistication and elegance. It combines spicy aromas of patchouli, cinnamon, bitter orange and sandalwood with floral notes of jasmine and magnolia. Spritz this perfume on your pulse points for a scent that will add confidence and last all day.
Write a review and share your opinion about this product with others.
Just fill out the form below and click the "submit review" button.
Thank you for your effort. We appreciate it.
We'd Like to Thank You
to receive special offers & coupons! (optional)
Represents the sexiest perfume I have ever used. Pls advise if this comes in bath oil also. I thoroughly enjoy the constant comments I receive from this perfume.
Written by Janet Brown on May 30, 2014
Read Review details ►
Lovely, wonderful, refreshing and sexy. What more can I say? I love it.
Written by Teddypie on December 16, 2013
Read Review details ►
i got a sample of this with my amariege and i fell in love with it. i bought some and am so glad i did. i just love it glenda,highlands,texas
Written by glenda, highlands,texas on March 26, 2013
Read Review details ►
i have been using this scent for a while and i love it. it lasts foreever and smells teriffic i just love it. glenda, highlands,tx.
Written by glenda, highlands,texas on March 26, 2013
Read Review details ►
One of my favorite's. I love most Gievenchy (sp!) I also love the new Lancome frgrances--they are killing me-as I have to have each and every one. I so wish I were the type to wear one fragrance abnd stick to it--but not this gal!!! Fickle-Fickle!!!!
Written by boatskryder on November 24, 2012
Read Review details ►
I have searched for years for a fragrance that fit me. here it is! It is devine. Likie everyosays, people stop to ask what you are wearing-not inn a "it's too loud" type of a waay--but a way that you kino0w that want to tget their hands on a bottle : - 0! I have to admit that i also love Very irresistable by Ginenchy as well===that company has frangrance down to a tee! LOVE IT ALL!!! STARTED WITH AMERAGE
Written by K-GAL on November 13, 2012
Read Review details ►
I have worn this fragrance since 2007. I wear nothing else but this scent. I get complimented on it, at least weekly at the office and other times when I'm out socially. My husband loves it. Please don't ever change it!
Written by Kathy on July 26, 2012
Read Review details ►
Amarige Marriage has become my signature fragrance. I wear it everyday,everywhere. People have stopped me and asked what perfume I'm wearing, that's how good it is. I do wish I could find the larger size again however.
Written by janis on January 29, 2012
Read Review details ►
i had this parfume 5 yrs ago and couldnt find it thank you for carring it ...got 2 everyone stops you about the wonderful scent..Do Not change it or drop it.. love it!!!!!! amariage mariage.
Written by c. on January 15, 2012
Read Review details ►
amarige mariage by givenchy is a wonderful fragence,when i wear it i get all sort of compliments all day long,my 5th bottle. katy tx.
Written by Anonymous on June 16, 2010
Read Review details ►