write a review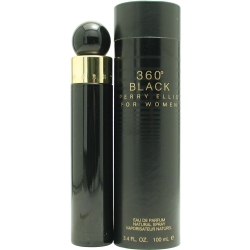 Surround yourself with a bouquet of intriguing floral scents with a spritz of Perry Ellis 360 Black. The fragrance designers at Perry Ellis developed this scent in 2006. A combination of sandalwood, Tahitian vanilla, and white musk form the foundation of this women's perfume. Top notes of sea notes, freesia, and peach blossom keep the fragrance light and sweet. Perry Ellis 360 Black offers a sense of mystery that works for both daytime and nighttime wear.
Write a review and share your opinion about this product with others.
Just fill out the form below and click the "submit review" button.
Thank you for your effort. We appreciate it.
We'd Like to Thank You
to receive special offers & coupons! (optional)
Tried it from a friend and just had to get it. It has this soft but yet loud lasting scent really sexy.
Written by shenel on April 09, 2012
Read Review details ►
I orderred 360 Black from another company and it smelled awful when I tried it on. After reading the comments posted on this site about it I decided to give it another try. When I opened the box I caught a good aroma and after trying some on I detected that it smelled good, feminine and floral with a little musk. This one can be worn for any occasion whether casual or formal. I hope this one doesn't get discontinued.
Written by lola on March 27, 2012
Read Review details ►
Perry Ellis black, It's interesting how certain scents have an impact on different people. This was my sister's fragrance so I decided to try it out. First,I wore it to a funeral and someone tearfully remarked:"Mama's spirit is in here,I'm smelling her." I felt bad that day,and months later,I wore it to an outside church concert and a guy behind me with a sinus problem said:"I don't know who you are,pretty lady,but whatever scent you're wearing,it stopped my runny nose so thanks a lot." So sorry it was discontinued,but it was really nice when it lasted.
Written by Trinigal on November 10, 2011
Read Review details ►
I really super love this elegant feminine fragrance. Years ago I use to wear Ralph Lauren's perfume Tuxedo and use to get stopped when I wore it and of course now it is discontinued.....but Perry Ellis' 360 degrees Black is very sexy and moderate in tone and effect and is not overpowering like other perfumes!! I so love this fragrance. It's romantic and unforgettable......
Written by Denise, RN, BSN on March 03, 2011
Read Review details ►
After reading all the reviews on this website for this perfume, I decided to get it. I had never smelled it before until I got mine yesterday. It smell wonderful!! it's perfect for work or night out. I would recommend this one to anyone looking to try to new perfume
Written by Anju on August 03, 2007
Read Review details ►
I think this is a subtle fragrance that can be worn at anythime that you want to feel special!( a get lost in the moment fragrance.)
Written by G.Mayes -Houston on March 22, 2007
Read Review details ►
i just brought this yesterday and wow am almost finished it already its a classic lovely scent
Written by mz mart on December 23, 2006
Read Review details ►
Wow! When I put this on, it reminded me of a perfume I used to wear and loved, but it was discontinued......Ralph Lauren Tuxedo! Oh how happy I am again!
Written by Debbie from Westerly on December 13, 2006
Read Review details ►
I got this perfume as a gift...at the time I was not aware of popular brands, especially Perry Ellis. Once I used it though I was hooked! I am not a lover of strong overpowering perfume scent, and only had one favourite brand of perfume...Tommy Girl as it was not strong but subtle...I can now add Perry Ellis 360 degree Black for women to my collection now. It is a lovely, subtle yet long-lasting scent...I LOVE IT!
Written by Tara Evans on August 30, 2006
Read Review details ►