write a review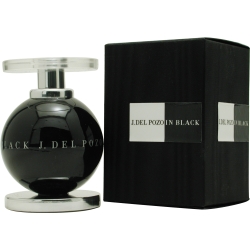 Intoxicating the senses since 2005, J Del Pozo in Black is a mysterious and woodsy nighttime scent that is a captivating blend of spices and delicately scented blooms. This alluring women's perfume is intense without being overpowering. Patchouli, musk, liquorice wood, cedar, jasmine, and pink grapefruit are just as few of the ingredients that create this stimulating blend of the forest and garden. J Del Pozo in Black by Jesus Del Pozo is perfect for those nights when you require a bit of yin and yang.
Write a review and share your opinion about this product with others.
Just fill out the form below and click the "submit review" button.
Thank you for your effort. We appreciate it.
We'd Like to Thank You
to receive special offers & coupons! (optional)
J Del Pozo In Black.........Amazing ....lasts well ....many, many comments & likes for this unique fragrance...if u enjoy a woody oriental fragrance indulge & experience this aura...
Written by ♥Di on August 15, 2013
Read Review details ►
Thank you wonderful service and the purfume is beautiful!!
Written by Anonymous on October 18, 2012
Read Review details ►
I bought J Del Pozo in Black, solely based on reviews. Never smelled it b4. Its a beautiful burst of freshness at first---almost powdery BUT spicy too! And it fades out to sweet puff of fresh, innocence and sexiness all at once. Unique fragrance! Love it!
Written by Shana in FL. on August 11, 2010
Read Review details ►
In Black is a wonderful fragrance. I am not one who like strong flowery scents. I like the subtle spicy, woods with a hint of flowery. This fragrance fits my bill exactly. It's not a "knock you over" type of scent but rather more on the mystery side. With it's subtle scent people tend to come close and asked to smell my wrist. They comment on how unique the scent is. This is what I want in the fragrance I wear.
Written by Anonymous on June 17, 2010
Read Review details ►
J DEL POZO IN BLACK is a beautiful fragrance which is not overpowering but intrigues a person to want to smell it & ask, what are you wearing, it smells just beautiful.
Written by Chris T. on December 25, 2009
Read Review details ►
To me this scent was a cross between Oriental/Spicy and woodsy. I love it!
Written by Felicia on August 25, 2009
Read Review details ►
Very nice scent. J Del Pozo in Black is a new fragrance for me, had a sample of the cream, loved it and thought I'd take the chance on the perfume,(which is not something I usually do). I am extremely happy with it, although it is slightly different than the cream. So, many thanks, and for the great prices and coupons.
Written by Nicole on December 06, 2008
Read Review details ►
This frangrance is AWESOME, I needed something new, I like a fragrance that is different than what everyone else is wearing.
Written by Angela in Indiana on July 02, 2007
Read Review details ►
Jesus Del Pozo must be truly an artist, to create j. del pozo in black. It has a very unique, strong, almost too sweet, dark, and thick fragrance. Slightly masculine, yet seductive. An interesting masterpiece.
Written by Mila on January 18, 2007
Read Review details ►
I usually pick one fragrance and stick with it. This is my new favorite - goodbye COOL WATER *lol*. It will take alot to beat my new favorite IN BLACK. Loads of compliments from others & its the first perfume I really feel SEXY wearing! Yummmy
Written by debbyc on November 30, 2006
Read Review details ►