write a review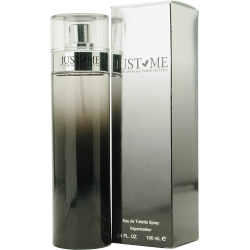 Just Me Paris Hilton cologne for men offers a fresh alternative to traditional, heavy masculine scents. This citrusy fragrance combines the fruity scents of black currant, lime and tangerine with the crisp, outdoorsy aromas of clary sage, grass, lotus, moss, sea breeze and woods to create a refreshing scent that is clean and energizing. Subtle hints of amber, clove, incense, musk and patchouli keep this cologne manly and interesting. Introduced by Paris Hilton in 2006, this casual men's fragrance is the perfect go-to cologne for everyday wear.
Write a review and share your opinion about this product with others.
Just fill out the form below and click the "submit review" button.
Thank you for your effort. We appreciate it.
We'd Like to Thank You
to receive special offers & coupons! (optional)
Paris Hilton Just Me is one of the best kept secrets of the colognes it smell amazing men and women always ask me what do you have on.I buy this two bottle at a time and for the price you can't beat it . It's a must have , get this one you want regret it , but when you first put it on you might not like but once it settling in its amazing
Written by AJ on August 31, 2013
Read Review details ►
Just Me for Men by Paris Hilton. A lot of comparisons to Aqua di Gio, and as a more inexpensive alternative it's not bad for the price. Somewhat strong alcohol smell in opening, once dried down it's smoother. Lasts 3-5 hours on me. On the feminine side given the black currant, lotus and incense, so if that's not your thing I'd steer clear. I however like feminine ones and as a blind buy I'm satisfied with the scent for a casual every day kind of wear given the price point. I'd say mature high schooler or above ccould wear, just not below that as it seems just a tad too warm/mature for guys younger than that. 24 year old college guy here by the way.
Written by Roberto D. on July 10, 2013
Read Review details ►
I love the mens bodywash wish it came in a bigger bottle And the Mens cologne tops it off I get compliments all day on it
Written by Derick H. of Hazel Park Mi. on October 10, 2012
Read Review details ►
Heavy alcohol scent with the initial application but the dry down leaves a firm yet subtle scent that lasts longer that you would expect. I've worn in an entire day and was pleasantly surprised the scent was there from the beginning to the end.
Written by cmitch79 on August 29, 2012
Read Review details ►
Paris Hilton's Just Me...is a really good, long lasting smell...a burst of citrus..that later settles down to a very masculine smell..that will attract the ladies..i wore it to school the next day i received it...and i got a handful of compliments...really like it..and the price is great
Written by XxJ0s3F806xX on February 23, 2011
Read Review details ►
I recently bought this fragrance for my husband, after smelling it on a friend of ours. I must say, I simply love it. I have fragrance allergies, and so far have no reactions.
Written by Anonymous on February 02, 2011
Read Review details ►
I absolutely love Paris Hilton, so I decided to try her cologne. After the first week of wearing this cologne I fell in love with it. It is now my signature fragrance, I wear it everywhere. It's so nice, and can be worn anywhere! It lasts the whole day for me, and receives a lot of compliments! I really recommend this Cologne! Don't knock it just because it's Paris. It's actually a really good fragrance. Plus the name is brilliant! "You smell good what are you wearing?" "Oh it's Just Me!"
Written by DavidGoneWild on May 23, 2010
Read Review details ►
Hello I purchased this Just Me cologne for my husband and I love it. I tell him everytime he wears it just how good he smells. You would not think the price would be so reasonable for a fragrance that smells so good!!!! Thank You
Written by T Love on May 14, 2010
Read Review details ►
Smells just like Acgua Di Gio, yet half the price. Great scent!
Written by Sk on April 13, 2010
Read Review details ►
i'm a 17 year old guy. I bought this and suprisingly I like it. I get endless compliments from coworkers and even strangers. It's really good.
Written by Dakota on August 21, 2009
Read Review details ►