write a review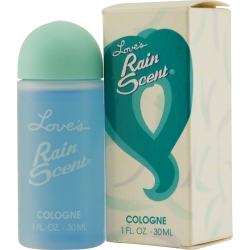 From Dana comes Loves Rain Scent, a perfume for women with an enjoyably evocative bouquet, radiating a light, energetic tone with subtle outdoor essences. It's just the right choice for a broad variety of casual events. First introduced by Dana in 1974, Loves Rain Scent has a delicate and appealing construction that delicately blends fresh notes of sandalwood, jasmine, lavender, patchouli and oakmoss.. This bright, fresh perfume is great for virtually any daytime occasion.
Write a review and share your opinion about this product with others.
Just fill out the form below and click the "submit review" button.
Thank you for your effort. We appreciate it.
We'd Like to Thank You
to receive special offers & coupons! (optional)
I have been using Loves Rain Scent since I was thirteen and am still using it at fifty-two....though it's a whole lot harder to find these days. I have never met anyone who didn't enjoy it's fresh, clean smell. I only wish you sold it in much bigger bottles and it could also found in stores again. Don't stop making it, whatever you do ! (As for the lady who said it smells like bug spray........I'd sure like to have a bunch of the bug spray she uses !)
Written by Lori D. on December 08, 2011
Read Review details ►
I'm not sure if this is the same item or not,,,,but there is a new scent that I just purchased at a well known drug store chain CVS that sells Love's Rain Forest....I'm not sure if it's the same thing or not,,,never tried Rain Scent...but it is so great smelling...very fresh....just wonderful...
Written by Anonymous on February 26, 2011
Read Review details ►
I loved this fragrance and wore it all the time in the late 70's. I was happy to see that you carried it. I have to say that I was so disappointed when it was delivered.I think it's been sitting on your shelves since the 1970's. It was so old it had turned rancid. There was no trace of fragrance left. Besides that, it wasn't how it was pictured in your ad. I have to keep looking I guess.
Written by still wanting on September 09, 2009
Read Review details ►
love rain to me smells like strong bug spray. Sorry,but i didn't like it all. May be fine for some women, but not for me
Written by judy on July 10, 2009
Read Review details ►
I'm shocked to find this perfume Love's Rain Scent I've been looking for, for years since my sister & I were teenagers. My sister will be very happy when she gets this for her birthday coming soon. We both will be happy to buy this more often.
Written by Marla Nebel on February 07, 2009
Read Review details ►
Loves Rain scent ive always loved this cologne, reminds me of my younger days ... & still love wearing it ... Donna D Long Island NY
Written by Donna D on December 03, 2008
Read Review details ►
I was so happy to see Loves Rain Scent!! I have been looking for it everywhere over the last several years!!I can alway's find Baby Soft,but never Rain! Thank you! You brought back a lot of good memories!!
Written by Mrs.Smith,Illinois on August 31, 2008
Read Review details ►
Love's "Rain", Oh my goodness, I didn't know they still made this. This was the first perfume I wore. I was 15 years old and that was a long time ago. Everyone commented on it. My husband even remembers it! It was my favorite.
Written by Jan on December 28, 2007
Read Review details ►
I have been looking for this fragarance for years. They stock love's baby soft during Christmas but not the fresh rain. It is a fresh clean scent that reminds me of the outdoors..I love it!!
Written by Anonymous on November 26, 2006
Read Review details ►
i love this scent. I have been looking for this for years. I live in Chicago and can't find this. So happy to see that you carry it. PLease get it in. People will love it. Hope that you all will let me knows when it arrives.
Written by mary sullivan on August 23, 2006
Read Review details ►