write a review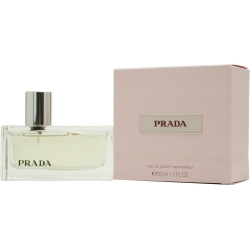 Prada is a well-known brand for many stylish items, and you can show off your good taste with this Prada perfume. The women's perfume was introduced by Prada in 2004, and it combines notes of labdanum, tonka bean, sandalwood, and bitter orange together with other delicious scents for a unique fragrance that is sure to please. The casual scent is moderate in nature, so it won't be overwhelming and is ideal for women who enjoy smelling great.
Write a review and share your opinion about this product with others.
Just fill out the form below and click the "submit review" button.
Thank you for your effort. We appreciate it.
We'd Like to Thank You
to receive special offers & coupons! (optional)
I've worn Prada Amber for the past several years and never tire of the scent. It is subtle, but very sexy. I don't like flowery perfume and this is not at all flowery..the undertones of patchouli and sandalwood are really nice. I think it's well worth the price!!
Written by Gigi on March 30, 2014
Read Review details ►
Prada Amber is a very sophisticated scent. A perfect mixture of fragrant oils, patchouli and sandalwood. It also works for men ...I get a lot of compliments when I wear this. I wear a sun lotion I mix with patchouli oil during the day and layer Prada Amber over it -it lasts for many hours and I can enjoy it myself!!
Written by Studio City Greg on February 10, 2014
Read Review details ►
I usually buy the Body Lotion because when I use it I have the scent coming out all day long. It's great and I always get the question..."what fragrance are you wearing"??
Written by Sara H on October 14, 2013
Read Review details ►
I started wearing this fragrance when I bought the body lotion. It was very fresh, flowery but not too pungent or too sweet. I decided to try the Eau de Parfume. I really like it! There is a pretty, clean note to it but nothing too green with just enough warmth to give it some character. The sweetness is just one facet of many and it wears well for about 5-6 hours.
Written by SandyFeet on July 29, 2013
Read Review details ►
This is a favorite of mine a little pricey but love it so I'll buy it.
Written by joyce on June 26, 2013
Read Review details ►
Absolutely love the Prada Amber and couldn't find the body powder anywhere in the UK, Thank you so much to Fragrance net, i managed to get not only the body powder but the soaps as well. I keep this fragrance for special occasions but if I could afford to I'd wear it every day. Over the years I've worn many fragrances but this is the one that i get so many compliments from. Thank you again Fragrance net and please ensure you keep not only the scent but all the body powders and lotions in stock!!!
Written by Val from Liverpool on April 23, 2013
Read Review details ►
One of my favorite scents of all time. Blends perfectly with my body chemistry. I think many people would consider this an evening perfume or romantic night perfume. But as the Brazilian woman I am this sexy scent is definitely an everyday perfume! I wear the deeper yves saint Laurent nu for an evening special scent. Love this one! A must have!
Written by Jasmin Silva on April 10, 2013
Read Review details ►
deep fragrance of vanilla,patchouli,amber..it smells exactly like jessica simpsons fancy nights...its a rich deep dark oriental on the bit of the masculine side because of the bomb of patchouli for all patchouli lovers this is great
Written by jackiesing on March 26, 2013
Read Review details ►