write a review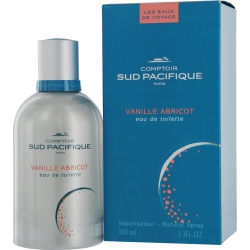 Comptoir Sud Pacifique's Vanille Abricot for women is an exotic, sensual perfume hinting at the mysteries of the Orient. The fragrance was launched in 1993 and consists of a top note of papaya, middle note of apricot and base notes of vanilla and sugar. Incorporating vanilla from Tahiti, this fragrance is softly spicy, yet fruity and woody, and it is an ideal perfume for daytime use on long, hot summer days or as a hint of summers gone by.
Write a review and share your opinion about this product with others.
Just fill out the form below and click the "submit review" button.
Thank you for your effort. We appreciate it.
We'd Like to Thank You
to receive special offers & coupons! (optional)
This is very lovely sweet cute adorable perfume. It is much best then I thought it would. I bought it blind and so happy I did. I sprayed quite a lot on myself before going to wirk thinking it would disappear quickly however I got so many complements ! Everybody who entered a store I work would say oh, it's smells soooo good here! And a lady I work with was saying all day oh, my god you smell like candy, so delicious but not overpowering at all, and it was there even after 7 hours. Very pleased with the scent and quality , long lasting happy scent.
Written by Inna on June 04, 2014
Read Review details ►
I'm loving Comptoir Sud Pacifique Vanille Abricot for summer. Although it's still considered Spring here, in Texas, that means Summer. Vanille Abricot is sweet, but not cloying to my nose. I'm also happy that the vanilla is mild and not overdone. My husband loves it as well.
Written by OddlyUnique on April 28, 2014
Read Review details ►
This smels like warm pineapple upside-down cake fresh out of the oven. Prepare to get compliments and lots of people asking what fragrance you are wearing. I used to wear this as my daily fragrance when I was a children's counselor and they LOVED it. My hair stylist loved it so much I bought it for her for Christmas. It is getting more and more difficult to find but when I do, I always have to buy a bottle or two. This fragrance always puts me in a good mood.
Written by Lesley on April 11, 2014
Read Review details ►
This is a yummy smelling fragrance. It smells like marshmallows to me but in a really good way. It makes me feel happy when I wear it and also is great layered with other fragrances. I love it.
Written by Melissa on March 16, 2014
Read Review details ►
Not for me, it smelled like wet cotton candy. It had a very sweet smell no vanilla or apricot scent at all.
Written by Anonymous on December 09, 2013
Read Review details ►
I bought Vanille Abricot because it had been my go-to for a long time, until about 5 years ago, when Sephora stopped carrying it. I don't know if Comptoir has changed the formulation, but it's different now. I don't like it as much, but I certainly like it. For those of you looking for the old formulation, be warned. For those new to the line, this is a gorgeous scent.
Written by Tamara on November 27, 2013
Read Review details ►
This is one of the best vanilla scents out there. Hard to find too. Everyone loves the scents from children to adults. I highly recommend.
Written by incachild on June 26, 2013
Read Review details ►
Prepare to be mauled by your date. Seriously. I have been wearing this frangrance for years and it drives my guy wild everytime. It's kind of bizarre -- it's actually not my very favorite frangrance. My all time classic fav is Chanel no. 5 and he likes that too -- but it doesn't matter -- he loves loves loves this one. Seriously, girls -- this frangrance gives you power; lots and lots of power! It's like sweet, sexy, innocent, girl next door with an apple-pie kind of fragrance -- whoa!
Written by Anonymous on August 25, 2012
Read Review details ►
I received this beautiful fragrance from fragrancenet. After one spray I fell in love; there is something so warm, so inviting about this scent that just makes you want to blanket yourself from head to toe in it. It's soft and subtle, but enough to make someone's senses perk up when they walk by wondering, "what is that wonderful scent?" It makes me want to order another bottle already because I know I will never want to be without it. If you're a fan of warm, inviting, comforting scents- vanille abricot is definitely the fragrance for you. You will not be disappointed.
Written by ashdeck on October 15, 2011
Read Review details ►