write a review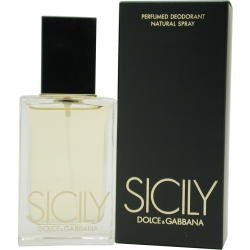 Show your confident side with Sicily, a perfume for the woman exploring what she likes most. Introduced in 2003 by Dolce & Gabbana, this perfume is ready for adventure. In tribute to the romance of the Mediterranean, the top notes of Sicilian bergamot and honeysuckle will command attention. A floral bouquet of hibiscus, black rose and jasmine punctuates the fragrance with a rich attraction. Mellower tones of musk, heliotrope and sandalwood tease the senses.
Write a review and share your opinion about this product with others.
Just fill out the form below and click the "submit review" button.
Thank you for your effort. We appreciate it.
We'd Like to Thank You
to receive special offers & coupons! (optional)
I always brought Sicily perfume but can't find it anywere. I realy like it and get lots of compliments when I wore it. They tell me I smell so good it makes my day.
Written by Jeannette on March 17, 2014
Read Review details ►
Sicily Eau De Parfum smells just like the Island of Sicily to me - fresh - clean - romantic - just like the scents of all the blossoms on the trees blooming. Every time I wear this perfume, I get so many compliments - and it lasts all night long too!!! I truly love this fragrance - please return it to the market now!!! The body wash is excellent as well!!! Amore e' Bacioni,
Written by Deanna Marie on October 13, 2013
Read Review details ►
I like a lot of others just love Sicily. I have searched everywhere for it all to no avail. Why oh why was it discontinued? It was certainly my favourite of all time & just hope it may be returned one day!!
Written by Kayls on September 18, 2013
Read Review details ►
My boyfriend bought this for me, as I am Sicilian. He has since passed on. I want to recapture that feeling I got when wearing Sicily for him. Please bring it back D & G
Written by Vickie on September 04, 2013
Read Review details ►
Ihave used Sicily perfume since day one. I have tried everywhere to find it, but without success. Everytime I wore Sicily, everybody complimented on it. It last all day, but it's not over powering. I do hope that D&B bring this perfume back.
Written by Pat Donatella on February 05, 2013
Read Review details ►
I was introduced to this fragrance by a gift received from a trip to Italy. I love it and it suites me perfectly. I vote to bring it back in circulation - everyone raves about the fragrance. BTW- it's my namesake:)
Written by Sicily on November 25, 2012
Read Review details ►
I love Sicily. My sister has a Large bottle and I cant find it anywhere. If anyone does please let me know. Love it!
Written by Elizabeth Prulello on September 28, 2012
Read Review details ►
Unfortunately everytime I fall in love with a perfume the company discontinues it - Sicily happens to be one of the scents that Dolce has discontinued and replaced with The One which is also very nice - I wear it all the time and love it but wish that they would bring Sicily back!!
Written by Sandra on July 16, 2012
Read Review details ►
I have used Sicily for a long time and I believe it is my very favorite of any perfume I've ever had. I have received many compliments on how great it smells. It also happens to be the one fragrance that stays with me all day. I'm hoping that they will bring back the full size bottle. Since I use it daily. I am so upset that it cann't be found anywhere in the regular size.
Written by Churchlady, PA on May 21, 2012
Read Review details ►