write a review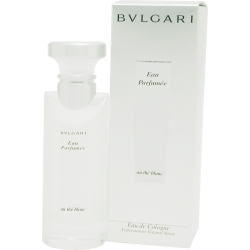 Bvlgari White fragrance by Bvlgari is a versatile scent designed for both men and women. This unisex fragrance offers musk and white tea notes that blend well with hints of ambergris, ablemosk, white pepper, and artemisia leaves. All of these pleasant elements combine into a complex perfume that is great for use during any daytime event or activity. Introduced in 2003, Blvgari White is ideal for wearing around the home or while out on the go.
Write a review and share your opinion about this product with others.
Just fill out the form below and click the "submit review" button.
Thank you for your effort. We appreciate it.
We'd Like to Thank You
to receive special offers & coupons! (optional)
Bulgari White Tea is the third in their tea lineup that I own. To my nose, it's the most subtle of the three. I think to call it "bland" would be premature, as I have to spend more time with it. May be my nose will be more susceptible to it as time goes by - but that requires frequent reapplication since it seems to basically evaporate on my skin on touchdown. Probably a matter of skin chemistry.
Written by Expats3 on May 21, 2014
Read Review details ►
Everyone who smells this on me comments on how good I smell! It's perfect for daytime wear and is considered unisex.
Written by anne the beady eye on April 18, 2014
Read Review details ►
I have loved this for years and love to wear it everywhere. It's unique. It's subtle. It's so non-fussy. A young man I know calls it a "non-Grandma" scent. When it's freshly sprayed, I smell the rich tea. A little time later comes the black pepper, and other things I don't have the knowledge to describe. I keep sniffing my own wrist, it's so entrancing.
Written by Happy 'Fume Fan on March 27, 2014
Read Review details ►
Bulgari "Au the Blanc" or White Tea is the best scent I have ever used. First used at MGM Las Vegas. It was complimentary from the hotel. I loved the products (lotion, shampoo, hand soap and Tea bags for the bath) so much that I packed them in my luggage for 5 days so that housekeeping would "restock" the products daily. I am sure that they knew we were taking them but every day there were replacements. I will always associate this scent with vacation so I always smile when I smell it. have gotten more compliments on this scent then I have ever gotten. It is subtle yet fresh/clean. I will definitely order products from FragranceNet again. You receive so many little "extra's" along with your order. 2 thumbs up.
Written by Carey from Wausau, Wi on November 21, 2013
Read Review details ►
I love this perfume. I am VERY picky and a lot of perfumes make me nauseous. I've used this perfume for years and it's still my favorite. This company is also the best. I've compared prices and they are consistently lower priced than anyone else. Love the perfume. Love the company. WIN WIN SITUATION!
Written by Evelyn on September 09, 2013
Read Review details ►
Omg! best all around sent for summer! I love it and so does my husband!
Written by Lorraine on July 02, 2013
Read Review details ►
Bulgari White Tea. I love it. It is the perfect summer fragrance because the scent is light. It is also perfect for office environement because it's not overwelming. I use it every summer. I buy the Tester and save a few exrta dollars!
Written by Frenchy on June 19, 2013
Read Review details ►
I get so many compliments on it - for the first hour, then the scent is totally gone. I would think a company like Bvlgari would have gotten that right by now. You have to spray so much on, and it just doesn't last. So unfortunate, as it is my FAVORITE SCENT. It is more a body mist, than a perfume. So just know that it WILL NOT last all day.
Written by Mary on May 22, 2013
Read Review details ►
This is my favorite fragarance. Very well pleased with the product and your perfect service. I am a very happy customer.
Written by Arlene on April 02, 2013
Read Review details ►