write a review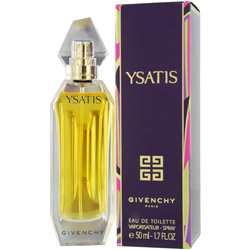 A sensual blend of flowers and aromatic woods, Ysatis by Givenchy is an elegant, feminine scent that is sure to give you the confidence you need. Introduced in 1985, this fragrance for women also contains notes of spice, musk, and rum that help add excitement to this seductive perfume. Ideal for daytime use, applying Ysatis will give you an irresistible, alluring aroma that will accompany you throughout your busy day, whether you are rushing off to an office meeting or out to lunch with friends.
Write a review and share your opinion about this product with others.
Just fill out the form below and click the "submit review" button.
Thank you for your effort. We appreciate it.
We'd Like to Thank You
to receive special offers & coupons! (optional)
I have been wearing Ysatis ever since it was introduced and would not wear anything else! I have lost track of how many people ask me the name of the perfume I am wearing and quite often I was asked to please write it dawn. It seems that both men and women alike do notice the fragrance of Ysatis and comment favorably about it. As long as I can buy it (or is given to me), I will continue to wear not but Ysatis. I just love it!
Written by Rita on June 27, 2014
Read Review details ►
This is my favorite perfume ever. I always get compliments when I wear this, I love, love, love Ysatis. Thank you FragranceNet, for great deals on Ysatis.
Written by Joni Gaines on June 20, 2014
Read Review details ►
I first brought this perfume many many years ago in fact 25 years ago duty free when travelling overseas, it's not a commend perfume found in most places, every time I run out, I have to search for a replacement bottle Ysatis by Givenchy is a gorgeous fragrance
Written by Geraldine From Leonay Australia on June 10, 2014
Read Review details ►
I have been using Ysatis since it first came out! I absolutely LOVE it! I have had men follow me around the grocery store to ask what I had on! I had a man hire me for a job out of his area, and went and bought every option of Ysatis for his girl friend! However, when I saw him again, he said she didn't smell as good as I did! It is perfect for my chemistry! My precious, oldest granddaughter had been out of town, came over for dinner, hugged me and said "oh! I have missed the smell of you!" How lovely was that?!? I truly LOVE my fragrance. I smell others, they just do not compare!
Written by Linda Courtney on May 25, 2014
Read Review details ►
I love, love, love Ysatis. I cannot find it at any of the department stores anywhere any more.i am so great full it is here. I have been ordering from y'all for a few years now. Always in stock always perfect. Thanks for the great service. Did I mention I love Ysatis? Oh good.
Written by Goin2Glory on May 22, 2014
Read Review details ►
I have tried other fragrances over the past 20 years, (due to the fact that my teenagers would complain that I always smelled the same), but I always return to Ysatis. I was told that my children may be out in public one day, get a whiff of Ysatis and they will think "mom". What a wonderful compliment for this lovely fragrance.
Written by Lindsey G. on May 04, 2014
Read Review details ►
Like others, I have been wearing Ysatis for many years. My favourite perfume which always prompts people to ask about it. I always receive compliments. Please don't stop manufacturing this fragrance as I would be devastated.
Written by Margaret on April 10, 2014
Read Review details ►
Ysatis was one of the fragrance in a gift set which was given to me as a Christmas gift over twenty years ago and I fell in love with it. I was watching the program San Antonio Living and FragranceNet was mentioned. I looked it up and wow found Ysatis. Thank you FragranceNet, I ordered a few bottles I even spray a little on my pillow at night.
Written by Yolanda Ortiz fr TX on February 22, 2014
Read Review details ►
I have been wearing YSATIS since I have been 13 years old and still wear it today. Men and women asked me what I'm wearing because I smell so delicious. I love the comments I receive everyday. It makes me feel great when I'm told I smell wonderful. Please don't EVER stop manufacturing this product. My favorite perfume. I love YSATIS........
Written by BabyBlue on February 22, 2014
Read Review details ►
Only scent I have worn for as long as I can remember - over 28 years now -love the scent people always ask what I am wearing - stays true -I hope they never quit making it - I have allergies and asthma and I can wear this without bothering them - and its wonderful to boot !!
Written by karennkids on February 17, 2014
Read Review details ►