write a review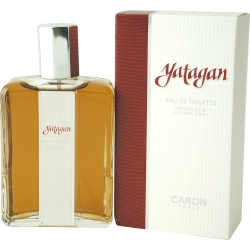 An energetic take on a classic cologne with notes of leather and tobacco, Yatagan cologne for men by Caron has a traditionally masculine character balanced with warm notes that add complexity and intrigue. A staple for many men since it was introduced in 1976, Yatagan has a sturdy scent that's perfect for a man who enjoys life every single day. This manly and inviting fragrance mixes leather and wood with hints of spice for a blend that's just as trendy today as when it first appeared.
Write a review and share your opinion about this product with others.
Just fill out the form below and click the "submit review" button.
Thank you for your effort. We appreciate it.
We'd Like to Thank You
to receive special offers & coupons! (optional)
As the man said, this stuff is hardcore. I bought it for my dad (cologne being my trad b-d gift to him) and he loves it. Fresh, sage-clean, most masculine of his collection (though dad tried to run off with my Chopard Casmir for himself once). With the exception of Kouros/Body Kouros, prev. B-d gifts, the absolute best mens cologne I ever smelled.
Written by Anonymous on May 11, 2014
Read Review details ►
Yatagan is a wonderful and mesmerizing scent!!!!....when you wear him you are saying " I am a precious man"...every Caron scent never disappoint me.
Written by Zetubal on February 12, 2014
Read Review details ►
As many of the people stated this is a mans cologne from a renound perfume house. It kicks your butt at first but slowly grows on you as the musk and spice settles your left with a nice sweet scent thats lasts all day one squirt lasted me all day. I love this website for making perfume so afordable.
Written by qazi on July 17, 2012
Read Review details ►
This stuff is hard-core, and not for the faint of heart. Having said that, it's a juice that you are unlikely to smell on anyone else. Yatagan is animalic, totally devoid of sweetness and as dry as the Atacama desert. I think it's brilliant; it's been a stalwart of my collection for about 6 years now, and I always have two reserve bottles in the fridge just in case Caron screw with the formulation. I'm not much interested in what women think of the fragrance, but other gentlemen certainly find it alluring. Yatagan says "MAN", in capital letters and inverted commas.
Written by Pete from Sydney on October 02, 2011
Read Review details ►
Just placed my order for this frag after reading so many positive reviews. Oh, I can't wait it to come!!
Written by LostArgonaut on June 10, 2010
Read Review details ►
I agree w/ BillytheBully on this stuff all the way!!!! Once you've tried this you'll want to try other classics as well & smell what you were missing. Try it. You'll be glad you did.
Written by Jeff on August 28, 2009
Read Review details ►
Yatagan in some ways is a brute of a scent, while I cant discount it being worn by a woman, it has no sweetness to it at all. A biter power house of a masculine scent that would need a man of character to carry it off, and what a man he is too. There is no apology in this scent for being masculine, if you cant stand the heat keep out of the kitchen.
Written by dacha on May 02, 2009
Read Review details ►
Yatagan is the ultimate in deep, heavy masculine men's fragrance. Yatagan beats up Aqua di Gio and steals his lunch money! This is the essence of testicular fortitude.
Written by BillyTheBully on May 01, 2009
Read Review details ►
Yatagan is a classic from the 70s. Very powerful and unique with a long lasting opening that smells of pine forests and dry summer earth. Lovely leather drydown. Brilliant but beware: this is not a fragrance for everybody because it's totally different from current trends. You will stand out when you wear Yatagan.
Written by OMC on April 27, 2009
Read Review details ►