write a review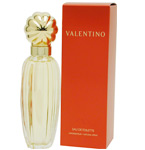 Designed for mature women, Valentino is a lively fragrance that leaves you feeling refreshed all day long. Inspired by Rome's "Italian-style floriental," this eau de parfum perfectly combines waves of jasmine, orange blossom, tuberose, and white Alba truffles for a sophisticated aroma with a touch of attitude that lasts six to ten hours. Introduced in 1986 by Valentino, this glorious fragrance is recommended for casual wear, providing you with an alluring aroma that will not overpower your senses.
Write a review and share your opinion about this product with others.
Just fill out the form below and click the "submit review" button.
Thank you for your effort. We appreciate it.
We'd Like to Thank You
to receive special offers & coupons! (optional)
Valentino was my signature scent. Disappointed when it was discontinued. I am excited for a potential comback. Never has been the same. No other fragrance can beat the personality that this fragrance has. It may be for the individual and not for everyone because of the person's chemistry, but this is ideal for everything. I wasn't able to get access to multiple picks. Simply the best.
Written by Rosetta on May 21, 2014
Read Review details ►
I have worn Valentino for 30 years, a special person bought it for my 20th birthday but am finding it harder & harder to buy. Such a beautifully, subtle, romantic scent.
Written by Robyn on January 29, 2014
Read Review details ►
Valentino is such a fresh feminine fragrance that I've worn for almost 26 years now. I always receive compliments on it and I hope someday the body lotion and shower gel will make a comeback.
Written by Mrs. C. on December 09, 2013
Read Review details ►
For most of my adult life Valentino has been my preferred and signature perfume. I always get so many compliments, currently I only have the last 2 bottles which I use so cautiously - I don't want to be without it. I am so glad soon I will be able to get it and continue using it as my trade and favorite fragrance.
Written by Syl on December 08, 2013
Read Review details ►
For many years my best friend and I had worn this fragrance, then it became impossible to find. Now, I'm so glade to have it back in my life....no words to say. Valentino we will never let you go from us again...
Written by Lizzie B on August 15, 2013
Read Review details ►
Valentino has been a favorite of mine for many years and I was disappointed when it was discontinued. While the deo spray is not as intensive as the original perfume, it provides at least a lingering scent of that wonderful scent.
Written by ExpatNY on August 02, 2013
Read Review details ►
Valentino has been a favourite of mine for many years, it is beautiful. Whenever I wore it in the past people would comment, and it is still happening now. I don't like overpowering, sickly perfumes. Valentino is just right in every possible way and suits every occasion. I hope it is available for years to come as it would be sadly missed!
Written by B.Beavis on August 17, 2012
Read Review details ►
I have used valentino for 25 years and am often asked which perfume i am wearing. I find it very difficult to get a perfume which suits me. I now find it extremely difficult to buy and this is the only site which sells it. The postage is the part which is making it almost prohibitive to buy as i am now a pensioner.
Written by Nancy on August 16, 2012
Read Review details ►
I started using Valentino since 1988. It was a birthday gift from my mother. It's aroma freshly cut flowers with fruity smell. I work in a retail store and my my customers ask me what I'm wearing and if we sell it. I get a lot of Compliments at all time. My co workers know if I'm in already. It's my "Signature Scent". Love it!!!
Written by Ms Aida on November 23, 2011
Read Review details ►
Valentino is a fresh, beautiful fragrance. I wear it every day and am glad to have it as my "signature scent".
Written by Donna on May 07, 2010
Read Review details ►