write a review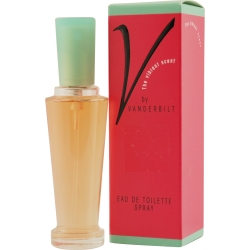 A casual but distinctive daytime scent from Gloria Vanderbilt, V by Vanderbilt perfume is a moderate, flowery fragrance that's perfect for any kind of occasion, be it a picnic with a group or a coffee date with a new friend. First introduced by Gloria Vanderbilt in 1994, V by Vanderbilt has a complex but appealing construction that combines crisp citrus with watery florals. This resonant fragrance will turn heads wherever you go, and it's a great choice for all sorts of events.
Write a review and share your opinion about this product with others.
Just fill out the form below and click the "submit review" button.
Thank you for your effort. We appreciate it.
We'd Like to Thank You
to receive special offers & coupons! (optional)
This scent is great I got introduced to this fragrance like 6-7 yrs ago, a co-worker was wearing it and I just had to know what she was wearing bc I never smelled it before, I found it at a local drugstore. Im so glad fragrancenet has it because I cant find it at the store or anywhere else for that matter. This a beautiful scent to wear and I always get compliments on it.
Written by Dawn on August 31, 2013
Read Review details ►
I got 'V' by Gloria Vanderbilt given to me when the fragrance first came out, but after it was all gone I didn't replace it until now... and I'm glad I did. It still has that soft, flowery scent that doesn't over power.
Written by Anonymous on April 27, 2010
Read Review details ►
My wife loves this fragrance, but you can not find it in our town. Thank you for allowing me to get her something she truly loves, and I love to smell it on her. Great service with just what I needed. Thank you.
Written by Kurt B. on February 24, 2009
Read Review details ►
My mom and grandmother god bless their souls did always used this perfume. It's the only perfume they ever liked and I have been accustomed to liking in their absence. I loved my mom and grandmother and always feel like they are with me when I wear it. I always get compliments on it anytime and anywhere I am... It smells really nice and I never get sick of it... Everyone knows it's me because it always smells so nice..
Written by Susan P. on February 06, 2009
Read Review details ►
I started using this fragrance many yrs ago and have tried many other fragrances, but none of them compare to Gloria Vanderbilt. I first got acquainted with it, smelling the scent on someone in a store and I asked her what she was wearing. She told me and it's been my favorite ever since.
Written by Marie on October 14, 2008
Read Review details ►
I have worn Gloria Vanderbilt for so many years I can't remember how long. I have many allergy's and it is the only one that will not make me brake out or cause me to have breathing problems. I frequently have people stop me and ask me what kind of freqence I am wearing, as the like it so well.
Written by written by pb on July 25, 2008
Read Review details ►
Great service. It smelled great and made my Wife happy. It was like we where in High School again. Thank you
Written by Moe W. on January 09, 2008
Read Review details ►
I have loved this perfume for many years, All 3 of my duaghters also love this.. I often give it as gifts because when ever I wear it , people men and women often ask " wow what are you wearing?"
Written by swtnis on February 02, 2007
Read Review details ►
It's a very nice scent to wear on strolls on a nice sunny day but nothing fancy
Written by kiki on September 27, 2006
Read Review details ►