write a review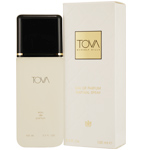 Indulge your senses with the subtle floral scent of Tova perfume by Tova Borgnine. This signature scent was introduced in 1989 to provide a flowery fragrance for women that's suitable for romantic occasions. Top notes of jasmine and lavender provide the smell of fresh flowers in bloom when the scent is first applied, followed by notes of sandalwood and musk to keep the floral scent from becoming overly sweet. The result is a touch of flowers that lasts for hours.
Write a review and share your opinion about this product with others.
Just fill out the form below and click the "submit review" button.
Thank you for your effort. We appreciate it.
We'd Like to Thank You
to receive special offers & coupons! (optional)
TOVA...I have been wearing this fragrance since 1990. It happens to be the only perfume I am not allergic to. In all the years that I have worn Tova, it never ceases to amaze me how many Men, not just women will either stop me or tap me on my shoulder and ask what fragrance I am wearing. I have been told numerous times that it is an intoxicating fragrance. It is an amazingly soft scent that is truly unforgettable.
Written by Monica on May 21, 2014
Read Review details ►
Tova is beautiful. I started wearing this amazing scent 20 years ago. There is nothing like it since. "Everywhere" I go, "everyone" asks (men & women)....what are you wearing, I could follow that scent all day long!" It's a scent that is so delicate, yet so unforgetable. I was thrilled FragranceNet carries Tova. I'd love to see the Tova Powder and Body Lotion carried to make the experience complete.
Written by Joan on March 26, 2014
Read Review details ►
Tova is the fragrance to have. I was extremely happy when I saw it back. Everywhere I go people ask me what are you wearing? Omg it really smells good. Where can I find it? It's worth every dollar. Try it and I guarantee you will love it.
Written by Lois Ellis on March 01, 2014
Read Review details ►
Tova Signature: someone is always asking, what are you wearing? I don't smell what I''m wearing but I always leave the scent behind. That's how I know Tova is an amazing fragrance.
Written by Christine on October 04, 2013
Read Review details ►
AH! the fragrance TOVA is what I'm talking about! Is this fragrance ever going to come back? My sister is the one that turned me on to it ,and we are both so disappointed that you don' carry it any longer! PLease,PLease bring it back!!!!!
Written by Diana Arnett on September 12, 2013
Read Review details ►
I have worn Tova for so many years and it breaks my heart that it is so hard to get now. I have had so many compliments on the clean soft scent of this cologne. I hope it will come in soon. I am almost out.
Written by Carol in VB on September 06, 2013
Read Review details ►
Every year for many years, my sister would treat me to a bottle of Tova Signature for my birthday. This was the best perfume I ever wore. I would get compliments in elevators, grocery stores, etc. Will it ever be brought back or should I just get over it and find something else, even though I know it won't come close?
Written by Sandy S. on July 24, 2013
Read Review details ►
TOVA is amazing !!! it's the best parfum i have ever experienced. After I have tried TOVA nothing compares any more. This scent seems soft and delicate but is powerful, is incredible simple and plain but unforgettable Makes me feel more feminine and special. Please bring it back !!!! I have received so many compliments !!!! I miss it !!!!!!
Written by Lilian on May 01, 2013
Read Review details ►
Please bring Tova Signature back , Love it that's all I was wearing , Got so many complaments...Jus Love it Bring it back......It really has a CLEAN sent Love it !!!
Written by Slomot... on March 27, 2013
Read Review details ►
I have worn just about every expensive parfum known to mankind. This Tova Signature is absolutely The BEST. for not only me. ANYONE
Written by VICKIE on January 20, 2013
Read Review details ►