write a review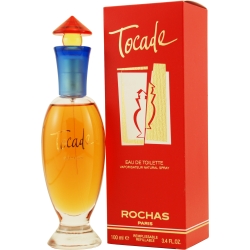 Richness and elegance are at the heart of Tocade, a spectacular evening fragrance by Rochas. For the elegant woman who appreciates the best, Tocade is imbued with gorgeous amber and luscious vanilla. Geranium, magnolia and iris notes complete this complex and alluring fragrance with its rich floral aroma. Tocade was introduced in 1994 and has accompanied women on unforgettable evenings ever since. If you're passionate and discriminating about deluxe evening fragrances, Tocade will instantly find a place among your favorite scents.
Write a review and share your opinion about this product with others.
Just fill out the form below and click the "submit review" button.
Thank you for your effort. We appreciate it.
We'd Like to Thank You
to receive special offers & coupons! (optional)
Tocade by Rochas was long on my list, but I thought the bottle looked kind of cheap. I know, this shouldn't be an influence, but it's on my drawer staring in my face every day so I want it to be appealing. Well, it turns out that the fragrance is so appealing that I don't care about the bottle anymore. Learned late that it is a classic, and I am glad that I added this spicy rose to my collection.
Written by Expats3NY on June 17, 2014
Read Review details ►
Tocade is a brilliant perfume. My wife swears by it and she prefers it to 'Chanel No 5'. the only problem is that it can only be obtained on the internet in England & Ireland. It is very distinctive and many people remark about in aroma. My wife is very well known for wearing it.
Written by A Close on April 24, 2013
Read Review details ►
This is a nice mild scent. I really enjoy wearing the perfume TOCADE.
Written by Valerie W. on January 01, 2013
Read Review details ►
I ran across Tocade while living in the Bahamas, 1993-95 and have worn it ever since. I have had men all these years stop and make a comment about it and how nice it is... I recently had a gentleman who actually knew the fragrance before I told him what it was... now that was a nice surprise :)
Written by LauraG on October 29, 2012
Read Review details ►
I have worn Tocade for years! Everyone comments on how good I smell but it is only after getting close. I love the quiet softness of this parfume. The lingering after aroma is delightful. I will continue to wear as long as it is made.
Written by Renay on July 19, 2011
Read Review details ►
I was desperate to find a replacement for Anne Klein II, took me years, and I found Tocade. It is even BETTER. I have several, 4 fashionable expensive types, on my dresser and I always go to the Tocade. I even recently purchased a bottle of Anne KleinII for over $250 and I still go to the Tocade. For those who don't know about Anne Klein II, it was hard to find when it was being produced in the 80s-90s, but you can now find unopend bottles 100x its original price. Don't waste your time and money, Tocade is even BETTER. I like a suttle fragrance, one that I can enjoy when applied, but does not overwhelm you all day. I know others can appreciate it hours later by all the compliments I receive.
Written by Patsy (Nannie) on June 10, 2011
Read Review details ►
I've lost count on the compliments I've received from elderly to youth, both male and female. They've even told me, "it's so nice to hug you because of the way you smell". The lingering scent of Tocade is a pure joy.
Written by His Dove on January 20, 2011
Read Review details ►
everyone loves the scent and asks me f or the name, the bottle is pretty too the perfume is TOCADE
Written by virginia Grasso on April 21, 2010
Read Review details ►
This is the greatest in your face smell. I love it.. Male and Female tell me how great I smell. I say that it's my little secret and I will never tell..
Written by Atlanta, Georgia Stephanie on April 15, 2010
Read Review details ►
love the aroma nice clean fresh scent long lasting Tocade is my favorite perfume
Written by Anonymous on April 06, 2010
Read Review details ►