write a review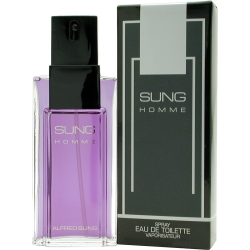 Sung by Alfred Sung is a great men's fragrance for informal outings. Whether you're meeting a casual date or just going out with the guys, this cologne will work well for you by providing pleasant citrus notes with alluring elements of spice. This combination makes for a manly aroma that projects your personal strength, conviction, and confidence. Introduced in 1988, Sung cologne has been providing a unique finishing touch for men for more than 20 years.
Write a review and share your opinion about this product with others.
Just fill out the form below and click the "submit review" button.
Thank you for your effort. We appreciate it.
We'd Like to Thank You
to receive special offers & coupons! (optional)
Been using Alfred Sung Cologne for Men for MANY years. Very sad that the after shave balm and the solid deodorant can no longer be found. Wish both the balm & deodorant would be brought back. Hope the cologne is continued FOREVER.
Written by L. A. on June 19, 2014
Read Review details ►
Sung Homme is a subtle fragrance between citrus and leather. Especially effective while hugging.
Written by H-H-Harry on June 12, 2014
Read Review details ►
This is my GO TO fragrance. I have worn SUNG and ONLY SUNG for many years now. The only reason I would stop is if they no longer made it.
Written by jerryblues on April 16, 2014
Read Review details ►
when i wear this, women want to be very close to me, even me feel very much attached, it gives me a confident and invincible feeling so much that it raises my level of happiness, rely puts me in a good mood.
Written by Geoffrey Barry on May 21, 2013
Read Review details ►
sung fragrance is a very popular cologne when i am socializing. all friends ask me where did i get it. i have never had a cologne more popular with the women. i have worn sung for over 10 years.
Written by james l on March 28, 2013
Read Review details ►
I've been using Sung for at least 20 years . Whether anyone else mentions it, I am amazed each time I wear this cologne. It is mysterious and beautiful and masculine. A near impossible blend , Thank you.
Written by M Dennis on October 18, 2012
Read Review details ►
wow!! Eveyone in my life that smells this cologne,has to know what it is and where they can get it....Been wearing this for 3 yrs now and it is all I wear now morning to evening ... EVERYONE LOVES IT!!
Written by DEEBEE62 on October 09, 2012
Read Review details ►
I feel sexy after the first spritz. Sung sets my mood on fire. I feel flirty and love to be the center of attention so everyone can get the sent of me. I've used this product off and on for the last 20 years. I also love Lite Blue, and Opium and Estee Lauders Cinnabara and other woodsie fragrances.
Written by MaryP. on July 15, 2011
Read Review details ►
...this has to be one of the most mysterious scents ever! Not manly, not feminine - but both!!! I wear it often and always receive compliments on it's refreshing, clean soap smelling scent. I am often stopped by men and women alike, who exclaim "mmmmm, what is that?!"... Thanx for offering it on the fragrance menu!!!
Written by Christine from St. Louis, MO on October 05, 2010
Read Review details ►