write a review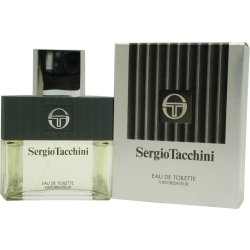 Introduced in 1996, Sergio Tacchini cologne by Sergio Tacchini is perfect for the boardroom or for any other part of your day. This daytime men's fragrance features a subtle blend of fresh lavender and juicy citrus fruits combined with tones of sweet spices and wood. Its masculine scent will turn heads without being overpowering. Spray the fragrance on your pulse points before you walk into your next meeting for a feeling that you can conquer anything.
Write a review and share your opinion about this product with others.
Just fill out the form below and click the "submit review" button.
Thank you for your effort. We appreciate it.
We'd Like to Thank You
to receive special offers & coupons! (optional)
I was introduced to Sergio Tacchini about 15 years ago. It had been a gift to mly brother from someone who had been to Italy. He could not find it in the states and asked me to look for it. At the time, I was only able to find tiny bottles and was told it was discontinued, so I bought one for him and one for me. I think it is a great Unisex cologne and wear it frequently. I just bought some more. It is very fresh smelling and I would recommend the ladies try it.
Written by Anonymous on February 04, 2013
Read Review details ►
Ever since a friend of ours from Europe wearing this scent, entered my front door in 1997, I simply had to find this fragrance for my husband! He has worn it ever since...thank goodness I am not the jealous type, because women everywhere comment him on this scent. It's very fresh and clean smelling, yet very masculine, like he just stepped out of the shower.
Written by Michelle on September 23, 2011
Read Review details ►
Sergio Tacchinni Eau de Toilette is an excellent cologne. People always ask me what aftershave I am wearing because to them the fragrence is very light and refreshing. It is a pity that it now so hard to buy - fashion I suppose!
Written by MartyUK on July 24, 2009
Read Review details ►
Each time I wear Sergio Tacchini for men, which is almost all the time, everyone I come in contact with, asks me what I am wearing and tells me that it is wonderful! I have worn it since it came out in 1996. Great fragrance!!
Written by Unicornvgs on November 23, 2008
Read Review details ►
I Have been wearing this after shave for over 5 years, and it has not dated, It lasts the whole evening, with out fading, or being too potent.
Written by neil on May 07, 2008
Read Review details ►
Its a really classy smell. Go for a wedding or any special event with suit and tie. Women love the smell really strong and elegant.
Written by TheSnake Man on May 06, 2008
Read Review details ►
ive been using sergio for 15years now its always been a nice clean and fresh smell thanks for your help supplying it to me
Written by Paul Smith on May 05, 2008
Read Review details ►
My wife and I discovered Sergio Tacchini in a men's specialty shop in the late 70's. It became an absolute favorite and has been missing from shops. I recommend use at any time. It may leave an impression!
Written by Areldee on February 03, 2008
Read Review details ►
A terrific scent! It's clean, warm, and slightly sweet, but definitely male, and it lasts! My ex-bf wears this, and oh my goodness, it's WONDERFUL on him! At one time even my sister followed him around, sniffing his shirt and saying, "Oh, you smell SOOO good!!!" LOL
Written by CDH on June 16, 2006
Read Review details ►