write a review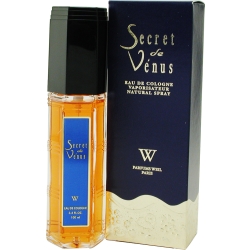 A tried-and-true fragrance since its introduction in 1933, Secret de Venus from Weil Paris will bring out the allure of your inner goddess. This women's perfume opens with top notes of bergamot, lavender, and spices that lead into floral heart notes and a base of sandalwood and patchouli for an exotic woody scent. Perfect for evening wear, this classic fragrance brings an air of mystique to any outing and will have everyone wondering what your secret is.
Write a review and share your opinion about this product with others.
Just fill out the form below and click the "submit review" button.
Thank you for your effort. We appreciate it.
We'd Like to Thank You
to receive special offers & coupons! (optional)
I agree totally with the earlier reviewers. It does not smell at all like the perfume I had in the very early 80s. I bought that bottle at I. Magnin's, which is no longer in business. When I saw it here I was happy to know that it was still available; but when I got it, I was shocked at the smell. It definitely was NOT the same. This newer scent is way too strong, to the point of being overpowering.
Written by Anonymous on May 13, 2014
Read Review details ►
This Secret of Venus is not at all like the oil I had in the 70's. I don't know what this is that I purchased but I don't care at all for the fragrance. I emailed /called you to try to return it and I never did receive a response. Please don't try to pass this off as Secret of Venus. You must have never had the joy of smelling the original oil of this lovely perfume.
Written by Judy on December 06, 2013
Read Review details ►
I, too, wore Secrets of Venus years ago, the oil based fragrance by Zibiline. I always got compliments on it and it was my favorite. This is what I am basing my review on. This new version does not cut it. Is there anywhere to get this oil based perfume anymore? I was heartbroken when I could not find it and have not found anything quite like it.
Written by Angela from NY on February 10, 2012
Read Review details ►
The oil I purchased at least 30 years ago was Zibilene (Secret of Venus) - I have about a half of a bottle left. Everytime I put it on, people will stop me and ask where I purchased this wonderful cologne I have on; they say it smells delicious. Sad to say I can no longer find it anywhere. It would be wonderful if I could get an address even in France as to where I could purchase it. Thank you and hope to hear from someone!
Written by Sylvia Anna on December 18, 2011
Read Review details ►
I worked in upscale ladies ready to wear, mgt, for thirty years and Secret of Venus was my signature scent because I loved how it smelled and one good spritz would last an entire 12 hour shift. This is not the same fragrance, not even close and a heavy spritzing lasts maybe two hours. It can only be decribed as a watered down knock off and terribly over priced for what it really is.
Written by S. Fowler on October 05, 2011
Read Review details ►
I have worn Secret De Venus for almost 50 years. It never failed to draw compliments. HOWEVER, the "new and improved" doesn't resemble the original at all! It is HORRIBLE, a complete waste of money and is little more than colored water!! I will never buy it again and if you are a dedicated Secret fan...don't even bother! It is NOTHING like the original. I give it an F!!!!!
Written by very disappointed on October 03, 2011
Read Review details ►
I BOUGHT A SMALL BOTTLE OF YOUR PERFUM YEARS AGO AND I HAVE KEPT IT FOR EVER, IT IS OIL BUT I HAVE NOT BEEN ABLE TO FIND ANY,DO YOU STILL MAKE IT IN THE OIL FORM? SECRETS OF VENUS IS THEBESTSMELL I HAVE EVERHAD
Written by PATRICIA BONDOC on April 24, 2011
Read Review details ►
I wore Secret of Venus Oil when I was very young. I was hoping to recapture what I remembered but I was very sadly disappointed. Not that it is your fault but this is not at all what I remembered. This smelled like old lady to me and not the subtle fragrance of before. I sold tons of it when I worked in a drugstore but this is not the same stuff.
Written by Lorraine on July 19, 2010
Read Review details ►
I bought a bottle of the perfume/bath oil Secret of Venus years and years ago and I use it sparingly as a perfume and once in a while for the bath. It is divine and seriously alluring but not overly sweet -- at least on me. I always thought the name appropriate. That said, I always worry when a perfume is "updated" and given the reviews of this newer version it doesn't sound the same. :(
Written by Anonymous on April 01, 2010
Read Review details ►
My uncle used to bring this back from France for my mother, the small bottle of essential oil, which I can't find anymore, but this is the scent - it was her special perfume & now it's mine. When I spray it on, I always remember my mother.
Written by CSJ from NH on February 20, 2010
Read Review details ►