write a review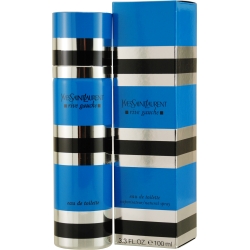 A classic scent revered by sophisticated women since its introduction in 1971, Rive Gauche, by Yves St Laurent, is the quintessential fragrance for casual occasions. Impeccably French, Rive Gauche is a warm, cosmopolitan scent characterized by floral and woody notes. You can almost feel the scarf around your neck and the beret angled on your head when you wear this fragrance. Elegant and complex, Rive Gauche is a perfect choice for the woman who is old enough to know exactly what she wants, and exactly how to get it.
Write a review and share your opinion about this product with others.
Just fill out the form below and click the "submit review" button.
Thank you for your effort. We appreciate it.
We'd Like to Thank You
to receive special offers & coupons! (optional)
I had purchased the ives saint Laurent cologne from back in the 70s and its such a refreshing fragrance I love it and so proud it is still being sold its the rive gauche I love it .
Written by carmen on May 18, 2014
Read Review details ►
The first time I smelled this perfume (YSL Rive Gauche) I fell in love with it, been wearing this since 1980's, and it's a must for me! I got different perfumes, Dune, Beautiful, Tressor, White Diamonds, Channel 5, Bulgari but still YSL Rive Gauche is my favorite scent! So mild, sweet and classy! I truly, truly love it!
Written by anniea0862 on March 25, 2014
Read Review details ►
I have worn this since it was first introduced with some gaps through the years, but I always come back. I get compliments from both men and women as it manages to not offend anyone's nose. Hopefully YSL will never sell or change the formula because it is a classic and a winner.
Written by BettyG on February 10, 2014
Read Review details ►
I've worn Rive Gauche for over 40 years. I have tried others, but all fail in comparison. It is noticed every time I wear it, and is my signature scent, my only scent. Sensual, yes. Thank you, Yves St. Laurent.
Written by violetblue on January 29, 2014
Read Review details ►
I LOVE this fragrant ......but I do know the fragrance has changed.......PLEASE bring back the original !!! I miss the softness of the smell; would buy it again if the original came back. PLEASE PLEASE PLEASE
Written by Michele on January 16, 2014
Read Review details ►
I have always loved this from when it first came out....I was a teenager and fell in love with it!! Rive Gauche has changed over the years and I don't like how it smells now, compared to when it first came out. Wish I could buy the original scent once again.......I really miss the softness of it's original smell. Please please make a come back with the original.
Written by Michele on December 21, 2013
Read Review details ►
Love this scent reminds me of 1980 when it was my first real perfume and I was in love .... Found once again recently takes me back in a good way but it's not old lady it's fresh still
Written by BritishBabe on December 10, 2013
Read Review details ►
I also have been wearing this perfume since I was around 16 years of age. I love it... I do wear other perfumes, such as Coco Chanel, and Madmoselle, Armani Code, Anais, Anais, Poison etc but the minute I run out of Rive - I SIMPLY MUST get some more.. It now still smells gorgeous to me and I do have people asking me what I'm wearing, Its a light, sexy fragrance... I loved it then I love it now. I wear perfume like we wear clothes - whatever suits my mood etc.. I believe this perfume is 5 star all the way for me!
Written by Lynn Holden on September 03, 2013
Read Review details ►
I LOVE Rive Gauche - I wore it in the 70's then went to Opium but now I have returned to this amazing scent that I now love much more than Opium. I hope you never change this formula. My only beef is it is very expensive and not everyone carries it so sometimes a challenge to find. It must still be a hit or it would be gone by now. Thanks,
Written by Gena on August 30, 2013
Read Review details ►
I'm now in my 50s .....I wore this fragrance when I used to work in my teenage years. Found it again a few years ago via your site....and love it. Hope this original version comes back. Here in Australia it's seldom I can find it. Love it love it love it.... And my boyfriend loves it when I wear it.
Written by Aileen on August 10, 2013
Read Review details ►