write a review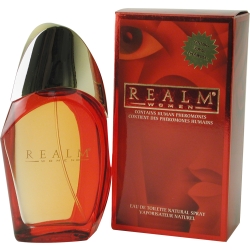 Realm by Erox is a women's fragrance that features a mix of water lily, sandalwood, honey, vanilla and mandarin. Introduced in 1993, its unique scent makes it a great choice if you want a subtle fragrance to complement your favorite daytime attire. Whether you use it for a day at work or an afternoon with your friends or family, Realm provides the perfect scent for just about any situation. No matter where you choose to wear it, it's sure to make an impression throughout the day.
Write a review and share your opinion about this product with others.
Just fill out the form below and click the "submit review" button.
Thank you for your effort. We appreciate it.
We'd Like to Thank You
to receive special offers & coupons! (optional)
I wear different fragrances but you might call this my 'go to' when I want to entice my man. I also use Realm when going into situations I don't know who will be there and appointments, both occasions make people more agreeable and / or friendly. I find Realm can make family get togethers easier, lol! I enjoy wearing Realm.
Written by Daisy on December 28, 2013
Read Review details ►
I am so happy that Realm is available here. I have worn it since it was introduced in the 90's. It has amazing staying power and is a very subtle scent with very attracting qualities. People often ask what scent I am wearing and always have. The affect it has on others is quite curious. I will keep ordering again and again and again! Thank you!
Written by Deborah R. on December 01, 2013
Read Review details ►
Realm is my all time favorite scent. I have used it for about ten years now, and when I am out I crave smelling it, like chocolate. :) People compliment me all the time on it and when you walk past people you just see it on their face as soon as they catch the scent. It makes me feel sexy and I would recommend it to everyone. Perfect to spice up your love life, I buy my husband the men's Realm. Amazing! This is the only site I go to for my favorites!
Written by Jill, Maui, HI on October 17, 2013
Read Review details ►
I have worn this for as long as I can remember. I get more compliments on the way I smell. This perfume works with your body chemistery because of the pheremones. Its not an over powering sent. I will go out without make up before I ever leave without my Realm.
Written by L.M.B on September 26, 2013
Read Review details ►
I had a friend who who wore this all the time. I loved it so much on her I asked the name. When I purchases Realm I can't smell it on myself, but another friend asked what I was wearing and then she purchased for herself. I really love the scent, but I enjoy a scent that I can enjoy also when I wear, so this is a secondary scent for me on a casual day.
Written by Ann Marie on May 08, 2013
Read Review details ►
Realm is absolutely wonderful! It seems to be subtle, yet very compelling.....you can see the effect it has on the people around you. Wonderful for that "special someone" you want to beguile.
Written by Rena on May 01, 2013
Read Review details ►
I love this fragrance! Back in 1993 I got a free sample of the lotion, and ever since I have been hooked. So glad I can purchase it online. Love it!
Written by AI on February 12, 2013
Read Review details ►
I was extremely happy with Realm, I bought it for my daughter for Christmas, its her favorite perfume. I liked it so much I bought myself one too. You can't beat the price compaired to anywhere else, you save more than 1/2. My youngest daughter 28 years old liked it so I bought it for her birthday, and received it very quickly. I love the scent it is subtle, yet it lasts, and I can wear it at work and not offend my boss son who is very sensitive to everything. Thank God for Realm!
Written by Kate on February 07, 2013
Read Review details ►
I LOVE this scent! When I returned home from out of the country, I tried finding it everywhere. Nordstrom's, Sears, ect and they told me it was discontinued much to my dismay. But I found ONE today and couldn't believe it with this website on it.... Its my favorite fragrance of all time!
Written by D on April 16, 2012
Read Review details ►