write a review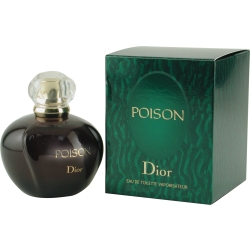 Add a touch of passion to your life with Poison by Christian Dior. Amber, honey and berries mix perfectly with spices in this exciting fragrance for women. Introduced in 1985, Poison allows you to express your inner confidence without overwhelming the room. Splash it gently onto your skin before you leave the house for a date with the one you love or a romantic encounter with an exciting new person and enjoy the energy it brings to the encounter.
Write a review and share your opinion about this product with others.
Just fill out the form below and click the "submit review" button.
Thank you for your effort. We appreciate it.
We'd Like to Thank You
to receive special offers & coupons! (optional)
Great classic oriental. This one has been a go to evening out fragrance for women for years.
Written by rickyrebarco on March 10, 2014
Read Review details ►
Purchased Poison by Christian Dior. A great scent that is sensual , spicy and sweet all at the same time. Have looked all over my area for this scent because I have purchased it previously and could not find it in any of the stores in my area. I was very happy to find it on line at a great price.
Written by Jackie on February 13, 2014
Read Review details ►
It is the only perfume that stays on me and every body will ask what it is even shop assistants. I keep it for best and use Chloe for everyday I use.
Written by Chiara on December 10, 2013
Read Review details ►
Undoubtedly the best perfume I have ever worn. It goes with anything, anywhere and anytime. My son grew up with me wearing it almost daily. So, as it happens to be my daughter in law's favorite as well, my son tells her it smells like an old lady's perfume and doesn't like her to wear it. This makes sense in a funny sort of way. So I buy her Ja Dore'.
Written by Annette on December 09, 2013
Read Review details ►
Some fragrances work well with some people. Poison is mine. Men love it and it is surprising how many men ask if the Poison fragrance is what I'm wearing! They appreciate it so much and I am happy to oblige. I LOVE IT! And I love the attention it brings me!
Written by Bunny on December 07, 2013
Read Review details ►
When You wear it,you get notice,and asked what are you wearing,I just Love It...;-)!!!
Written by Ms.Marrie on December 03, 2013
Read Review details ►
I too have been wearing poison for years, I can't wear fragrance at work, so putting it on when I have the occasion makes it an extra special treat and makes me feel delicious.
Written by cindy on December 03, 2013
Read Review details ►
a great subtle scent that lasts for hours, Great for work or evening out. IT's been my favorite for a long time now,
Written by Sandy on November 21, 2013
Read Review details ►
Poison is my husbands favorite fragrance on me -- He is always appreciative when I wear it which makes me happy. I love it -- I always get comments from people when out -- they often stop me to ask what scent I am wearing and have had them follow me through an isle or two before asking what it is!!
Written by Victoria on November 12, 2013
Read Review details ►
I've been wearing this fragrance since I was in my 20's. I love the bold spicy elegant aroma. I get lots of compliments when I were this fragrance.
Written by Anonymous on September 16, 2013
Read Review details ►