write a review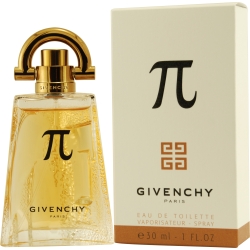 Like the numeral pi, Givenchy's Pi is undefinable, mysterious, and endlessly fascinating. Refined and sensitive, sweet yet masculine, Pi for men exudes sensuality and is a delicious addition to your evening attire. The house of Givenchy introduced this elegant fragrance in 1998. Fresh, clean notes of sandalwood and deep patchouli add up to a delightfully irresistible and attractive fragrance. The evening may end, but the memory of your exquisite scent will linger on and on.
Write a review and share your opinion about this product with others.
Just fill out the form below and click the "submit review" button.
Thank you for your effort. We appreciate it.
We'd Like to Thank You
to receive special offers & coupons! (optional)
Pi is the standard for a man that wants an unforgettable smell. I started wearing this in 2007 and it has brought a lot of women closer. It is the cologne that calls out and draws near to get a full scent of it. It is sophisticated enough to wear from the boardrooms to the dinner invite. Givenchy has truly given a man a no thought required fragrance.
Written by Will rose on July 08, 2014
Read Review details ►
I bought this cologne as a replacement for a bottle that my husband broke while traveling. This bottle smells the same as the bottle that I paid almost twice as much for. It is a great, sweeter smelling cologne that has a lot of depth with a slightly powdery smell, but is never chemically smelling or cloying. A winning cologne that I highly recommend and find quite attractive!!
Written by Anonymous on May 25, 2014
Read Review details ►
The best Man's fragrance...ever! You have a winner here Givenchy! I fell in love with this manly fragrance years ago while shopping for a new fragrance for myself (Donna Karan Cashmere Mist). Just stumbled upon it as it was misplaced in the women's fragrance testers. The counter clerk apologized, and I said, no apology, I love it! My man wears it for me, even though he also likes it, too. For me, everytime I smell this fragrance, it makes me feel all warm and fuzzy inside. It's very enticing, to say the least...LOL!
Written by lulu2860 on May 13, 2014
Read Review details ►
Granted the ladies will love this fragrance, Pi by Givenchy is to be worn for one's own. It's a clean scent that inspires conference.
Written by R. Knight on April 06, 2014
Read Review details ►
I was seating next to an average looking man on the bus and he was wearing this cologne. One smell of this sexy scent on him and it made me sweat all over!! This cologne made my knees weak and wet!!! Great cologne, all men should wear it!!!!
Written by Sarah P. on March 24, 2014
Read Review details ►
I love Givenchy. They never disappoint with their fragrances. I'm always getting complements abut how good I smell and people wanting to know what it is I'm wearing.
Written by MML on January 15, 2014
Read Review details ►
Very nice if your looking for spice, woods and sweetness.
Written by The buckeye on December 30, 2013
Read Review details ►
Pi Givenchy: I bought this as a new scent recommendation from a friend, for a close male friend of mine, who was looking to change up colognes. I sprayed it on my wrist, I fell immediately in love with it, and end up buying two bottles of it, one for my male friend and kept the other bottle for myself. I absolutely love it!
Written by Theresa G. on December 07, 2013
Read Review details ►
Favorite cologne of mine and all of the women in my life. Pleasant, long lasting aroma.
Written by tony g on November 11, 2013
Read Review details ►
I bought this as a women scent, it was on the women area on a store.....How was I suppose to know this is a men's cologne? And I indeed tried the bottle on the counter SOOO, I felt in love with it. THEN I found out on youtube this was a men's cologne. I must admit this is the spicy, sexy, sensual version of CK unisex cologne, I love it and I have been wearing it for the last 4 days. :-) Don't be afraid, if you are a daring woman, I dare you wear this on a winter evening day. :-) It reminds me of pumpkins ....mmmmm yummy..
Written by Jazz on September 20, 2013
Read Review details ►