write a review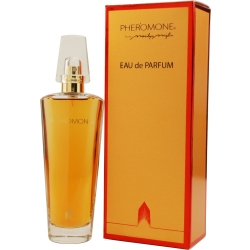 With a name like Pheromone, you know this fascinating perfume for women from Marilyn Miglin will blend with your skin to create an alluring scent that turns heads wherever you go. Introduced by Marilyn Miglin in 1980, Pheromone is the product of a complex and carefully balanced mixture that combines an astonishing 179 rare essences including exotic barks and seeds, wild grasses, flowers, roots, rare wine resins and essential oils from countries that include France, Belgium, Madagascar, Italy, Portugal and Egypt.
Write a review and share your opinion about this product with others.
Just fill out the form below and click the "submit review" button.
Thank you for your effort. We appreciate it.
We'd Like to Thank You
to receive special offers & coupons! (optional)
I bought the lotion in this fragrance. I am very pleased with scent and the length of time the fragrance remains. Other people still smell the scent at the end of the day when I do not.
Written by AnG on July 23, 2014
Read Review details ►
Marilyn Miglin's Pheromone is a scent I've wanted to try. It is intoxicating! I got the shower gel after seeing the fantastic price. Now,of course, I'm going to get the whole line of Pheromone products. Try this. It will intoxicate everyone around you too!
Written by Patchypot on May 12, 2014
Read Review details ►
I've worn Pheromone for several years now. I used to work in retail, and have had people follow me out of the store (male & female) to ask what I'm wearing. Any time I wear this fragrance, I get nothing but compliments. Obsession used to be my signature fragrance until I discovered Marilyn's Pheromone. Pheromone is now my signature fragrance. Wouldn't wear anything else! I can't do "flowery" perfumes, so the spicy/oriental scent to Pheromone is absolutely perfect for me. All I can say is - try it. You may find yourself a new "signature fragrance."
Written by Bast on April 06, 2014
Read Review details ►
I have used Pheremone since I received it as a gift when I was 17...and I'm now 60!!!! No matter what other fragrance I've tried, I always come back. There are many reasons why I come back, but the most important one is because I receive so very many compliments on it, how can I not!!! This perfume smells different on each person who wears it, so all I can figure is that my body is VERY compatible with whatever is in it. I always get asked what is that fabulous scent I'm wearing, or who smells so delicious and comments like that. There is no doubt that as long as I continue to get compliments like that, that I would ever change. Thank you, Marilyn Miglin!
Written by Diane C on March 08, 2014
Read Review details ►
This scent, by far, is the most sensual, sexy, and best scent that i have ever worn. My husband loves when i wear it, it's his favorite and the only scent he prefers me to wear. A little slice of heaven in a beautiful bottle!!!
Written by ms.KelliC on January 11, 2014
Read Review details ►
Pheromone is my wife's favorite fragrance so I try to buy her a new bottle each year. It's probably the most romantic fragrance I've ever enjoyed that easily competes with Chanel 5 and I would recommend it to any woman who wants a special fragrance for any occasion.
Written by Ramantic Husband on December 30, 2013
Read Review details ►
Love, Love, Love my Pheromone. It has been my personal scent for about 25 years. People stop me in stores and ask what I am wearing.
Written by GBS on December 29, 2013
Read Review details ►
Good product!! Got here very quickly.. Overall Very happy with the purchase!
Written by mike on December 26, 2013
Read Review details ►
Smells different on me than friends I like it on. I still prefer Chanel # 5 & Boucheron over this one. Once I`m around others & receive a comment on it maybe I`ll stick with it.
Written by Ruth on December 19, 2013
Read Review details ►
Clean and fresh, yet a hint of the exotic. Very unique. I get more compliments on this scent than on any other... from both men and women!
Written by Anonymous on December 12, 2013
Read Review details ►