write a review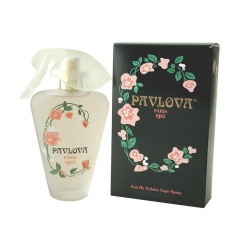 Emphasize your femininity with Pavlova by Payot. This soft and delicate floral scent is undeniably sweet, creating the perfect balance of beauty and confidence. Introduced in 1922, this lovely classic fragrance for women creates a feeling of timeless elegance that will bring joy to your every encounter. Spray it gently onto the creases of your arms as you get ready for a romantic evening and enjoy the sense of sophistication and gentle passion it brings.
Write a review and share your opinion about this product with others.
Just fill out the form below and click the "submit review" button.
Thank you for your effort. We appreciate it.
We'd Like to Thank You
to receive special offers & coupons! (optional)
My Mother used Pavlova since I was a young girl, I remember she always smelled so good. She passed away 03/11/2004, and I looked every where for Pavlova. I spray a small amount on my heart so she can be near me.
Written by MFW on February 08, 2014
Read Review details ►
I just tried and purchased Pavlova for the first time today, and I am thrilled to "discover" this arresting scent. Collecting important iconic fragrances is a hobby of mine,and I am sure glad that I have finally crossed paths with this one!!
Written by Lisa the cat from Atascadero, CA on May 17, 2012
Read Review details ►
I'm glad to have found this for my Mother-In -Law .She loves it!!! So it was a perfect Mother's Day gift Thank you for stocking it : Pavlova :
Written by Kay on April 29, 2012
Read Review details ►
My first husband asked a lady at an adjoinging table what she was wearing in the '80s. It's the only fragrance I've worn since then. I've had many ask me what I'm wearing. I tend to "horde" it now. The body lotion is the absolute best, it last forever.
Written by Gayle in Illinois on November 29, 2010
Read Review details ►
I used to use Pavlova when I was in my early twenties. Then, I couldn't find it anymore and was told it had been discontinued. You can imagine my delight and surprise to find it again after so many years!
Written by Tess on October 04, 2010
Read Review details ►
This is one of my favorite summer fragrances. If I wear it during the winter, it reminds me that spring will come!
Written by redsyd1 on July 29, 2010
Read Review details ►
I have been wearing Pavlova for about 30 years. It's the only fragrance I wear. Most others are just too strong. Pavlova is just right and I have had many people ask me what I am wearing. My sister used to wear it, and that's how I got started wearing it. Every year she gives me more Pavlova because it's hard for me to find. Thank you Fragrance Net for carrying this product.
Written by GrandmaJB on December 03, 2009
Read Review details ►
My family just celebrated my 68th birthday and I had "scented" myself with Pavlova - I've used it for many, many years. As we walked past a table in the restaurant, a young man asked my daughter-in-law (age 38) for the name of HER perfume so he could buy his girl some! He didn't realize the perfume was on the "old" lady!!! BTW, I use unscented lotion and add a few drops of the Pavlova - it works.
Written by MommaCat on January 06, 2009
Read Review details ►
I just started using Pavlova again & I am so glad to have it back in my perfume wardrobe. It is a very intoxicating fragrance and is a unique blend, not like any other perfume. It is not heavy, lasts throughout a long day & is a very calming scent.
Written by Linda T in Terre Haute, IN on December 05, 2008
Read Review details ►