write a review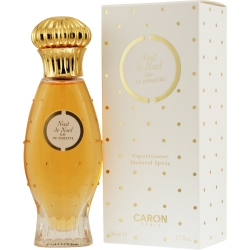 Nuit de Noel by Caron has been captivating discerning women since 1922. The timeless women's perfume proves that some things will never change, including the lasting appeal of this softly feminine and elegant fragrance. Nuit de Noel is suitable for any romantic or special occasion. Sensual heart notes of sandalwood and oak moss create a mysterious effect, while the exotic floral scent of ylang-ylang blooms as a top note. The perfume makes every day feel like a holiday.
Write a review and share your opinion about this product with others.
Just fill out the form below and click the "submit review" button.
Thank you for your effort. We appreciate it.
We'd Like to Thank You
to receive special offers & coupons! (optional)
My father purchased this for my mother right after WWII. He would buy it every year, until most stores stopped carrying it. I found it and gave it each Christmas to my mother, until she passed away. My wife has continued to carry on the tradition, as she is in love with it too.
Written by Doug on May 11, 2013
Read Review details ►
My mom wore this, then I wore this ---- somehow along the line I forgot about Nuit de Noel... I saw it on Fragrance Net and HAD to have it... just received my purchase..... I love trhis fragrance - happy memories and wonderful scent :)
Written by Kate on January 27, 2013
Read Review details ►
I began wearing Nuit de Noel when in my twenties. About 30 yrs. ago I, nor my family, was able to find it. I was very excited when I found that Fragrancenet carried it. It is heavy, but scents don't last long on me and I use it sparingly. I don't think it appropriate for teens, but for most anyone else. I am now in my mid seventies and am excited to be wearing it again!
Written by Pansy on September 09, 2010
Read Review details ►
I have loved and worn Nuit de Noel since I was young. I wore it until I couldn't find it. I can't tell you how happy I am to have it back in my life! There has never been another fragrance to compare and I've tried many.
Written by Margie on December 06, 2009
Read Review details ►
Have loved Nuit de Noel for years, but have problems finding it except in large cities. Thank you for carrying it. Use it sparingly for daytime wear. Great for romantic evenings. If you like Joy and Shalimar you will probably enjoy this fragrance also.
Written by Linda H on June 02, 2009
Read Review details ►
I have been wearing this fragnace since I was very young, I am 72 and still love this fragrance. Makes me feel special. Nuit de Noel continues to one of my favorites.
Written by Loretta on May 04, 2009
Read Review details ►
I wore Nuit de Noel years ago, and thought it was no longer available, as I hadn't seen it at my favourite perfume counter. When I was on your website looking for another scent I happened to see this. Imagine my pleasure at finding a perfume I'd love still being available. Wish it came as an eau de cologne instead of eau de toilette, so that it would last longer. I have had lots of compliments on its delicacy.
Written by Wendie K. on March 13, 2009
Read Review details ►
My husband to be gave me this for Christmas in 1959 and I loved it. He gave this to me for Christmas or birthday or anniversay for several years and then we could not find it anywhere. I just recently found it and he gave it to me for Christmas this year. I then went on line and see you carry it and just bought another bottle. This is one of my favorites. I really don't know who to describe the fragrance.
Written by June on January 23, 2009
Read Review details ►
I love Nuit de Noel. My mother wore it every Christmas Eve while I was a child and it evokes many joyful and loving memories. It really is a beautiful fragrance.
Written by Barbara Ann on November 21, 2008
Read Review details ►
My wife enjoys the scent. It is not overpowering and is very pleasent.
Written by RonVi on January 03, 2008
Read Review details ►