write a review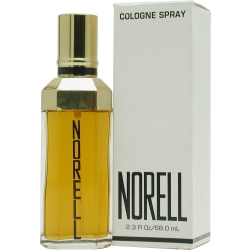 Norell, by the Five Star Fragrance Co., is a fragrance that has been used by the casual woman since 1968. It features a rich, floral blend mixed with vanilla, myrrh and moss, creating a unique scent that is well suited for a number of situations. Whether you choose to wear Norell on an outing with friends or at a dinner with that special someone, you are sure to turn heads the moment you enter a room.
Write a review and share your opinion about this product with others.
Just fill out the form below and click the "submit review" button.
Thank you for your effort. We appreciate it.
We'd Like to Thank You
to receive special offers & coupons! (optional)
Please, please, please get this fragrance back!!!
Written by Carol Atwell on June 05, 2014
Read Review details ►
I have used Norrell since it hit the Market. I am a Southern Bell Tel. Co. retiree and I have had over the years Men that just pass by me and ask me to give the the name of what I was wearing so they could buy some for their wives. I have been retired 13 years and still wear it and have so many compliments. My Husband of 55 years loves me to wear it too. He is the one that matters. (It is so mild and does not jump out strong when someone hugs you. They just say you sure do smell nice.
Written by Mary J. Price on December 31, 2013
Read Review details ►
I am devastated that I cannot get Norell right now. I found it when I first met my husband and have worn it exclusively for 42 years. He has recently passed away and I am 3/4 done with my last bottle. It means a great deal to me sentimentally and I ask that you get it back in stock as soon as possible. PLEASE
Written by Linda on December 16, 2013
Read Review details ►
NORELL-COLOGNE My mom always used norell she ran out and asked me to buy it for her ...she's very ill and can't get around , i looked everywhere and can't find it ...please, please bring back to stock so i can make my mom happy . thanks
Written by CAROLINA on November 23, 2013
Read Review details ►
this cologne is the best fragerance I have ever worn. I love it.
Written by Sandy Linaker on November 15, 2013
Read Review details ►
I associate a few scents with my mother...Tweed, Chanel No.5 and Norell. When she wore Norell, she smelled fresh, clean and soft. I always wanted to be near her. I haven't smelled this perfume since she died in 1992. I miss her so much and I'm glad I'll be able to enjoy this scent again.
Written by Jamie on October 21, 2013
Read Review details ►
I have worn Norell for many many years, maybe since it first came out. There are a lot of perfumes and colognes that don't do well with my body chemistry, but I have never had a problem with Norell and always get lots of compliments from both men and women. I hope you get it back in stock soon as I am on my last bottle.
Written by Gail on September 23, 2013
Read Review details ►
Approximately 45 years ago I was vacationing at the then famous "Castle Habour Hotel" in Bermuda. One evening I stepped into the elevator alone to meet my husband who was waiting for me in the lobby. I was wearing a long black spaghetti strap evening gown. The only person, a gentleman, in the elevator remarked, "You look lovely and you smell wonderful"....... Later that evening I learned it was Charles Revson (of Revlon). I was wearing NORELL....... and still wear it. I'm 84 years young and still get compliments. It has and always will be my signature perfume. Please bring it back in stock!!!
Written by florence, westport, ct. on September 16, 2013
Read Review details ►
I STARTED WEARING NORELL IN 1974 AND HAVE NEVER FOUND ANYTHING I LIKE AS WELL, BUT HAVE NOT BEEN ABLE TO FIND NORELL FOR A LONG TIME. MY MOTHER ALWAYS WORE IT. WHEN SHE DIED 7 YEARS AGO THERE WAS A BOTTLE IN HER COSMETIC BAG SHE HAD AT THE HOSPITAL. SHE NEVER WENT ANYWHERE WITHOUT IT. PLEASE GET IT BACK.
Written by Anonymous on August 13, 2013
Read Review details ►