write a review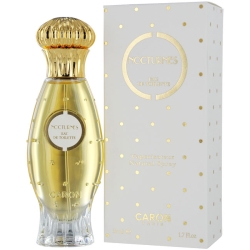 Nocturnes d'Caron for women is a thrilling, sensual fragrance introduced by Caron in 1981. A harmony of classic feminine scents, this luxurious women's perfume owes its charming aroma to the perfect combination of delicate floral and sensuous musk notes. Nocturnes d'Caron is rich, warm, and enchanting, making it the perfect fragrance for enhancing a romantic atmosphere. Spritz this delightful perfume onto your hair and neck to leave behind a scent of intrigue and romance wherever you go.
Write a review and share your opinion about this product with others.
Just fill out the form below and click the "submit review" button.
Thank you for your effort. We appreciate it.
We'd Like to Thank You
to receive special offers & coupons! (optional)
This is my only and favorite fragrance, it is one of a kind, and I have been wearing it for years, and when I am dancing someone always compliments me on my perfume. You are the only place I can find it, please do not stop carrying it.
Written by Jo Ann on April 08, 2014
Read Review details ►
This is the only place I have found my favorite scents. Both of which are more than 40 years old. I love them, and it is so nice to know I can order them whenever I need them. I have been shopping with FranranceNet for years, and am so happy they are there!
Written by San Rafael on June 20, 2013
Read Review details ►
Nocturnes D'Caron... Oh yes. My best friend came across this the year it came out and I was so jealous. I had to have it! I wanted to get it but knew she would be upset. I did end up getting it and she was upset. That was many years ago. Once we moved apart I bought it again. I haven't worn perfume since then and that was 20 years ago. To me it smells like a bouquet of flowers. Just a little spray goes a long way. I'm so glad that this fragrance is still available. I treated my self to this small luxury. Thank you for carrying this Fragrancenet.
Written by exquisite and elegant. on January 20, 2013
Read Review details ►
My sister brought me this perfume 25years ago, and It has the most beautiful scent in the world,after having a conversation remeninencing about back in the days she mentioned nocturne de caron and I fell out my chair, All haitian women who knew perfume and had money back then wore Nocturne De Caron and my dad had the huge bottle of Bain De Champagne on his dresser, like wise I want my husband to share this experience.
Written by Mrs.Clonie Williams-Okelarin on January 14, 2013
Read Review details ►
oh yeah and does not smell like any of the "similar scents"...that stuff is not even comparable....
Written by Anonymous on September 16, 2012
Read Review details ►
this stuff stinks, it smells like black pepper. that is all it smells like. very very deceived...no other term comes to my mind other that "black pepper"...ughhhhhhhh
Written by Anonymous on September 16, 2012
Read Review details ►
Nocturnes D'Caron is a classical fragance..the essence of elegance in my opinion. There is nothing quite like it, and I know fragances. Reserve for those special ocassions, but if used in small dabs you can get away with it as a daily perfume.
Written by Patty on August 08, 2012
Read Review details ►
I wore this fragrance in the body lotion in the 1980's. I have been searching for the body lotion and cannot find it anywhere. This is my favorite fagrance and would like to get a hold of the body lotion, but will accept the perfume or the cologne.
Written by Margaret D. on April 12, 2012
Read Review details ►
NOCTURNE IS THE BEST!IT IS LIGHT ENOUGH SO IT WON'T BOTHER ANYONE LIKE ME WHO CAN GET A LITTLE NASEAUS WHEN THEY TRY TO WEAR PERFUME THIS DOSEN'T BOTHER ME AT ALL!!I JUST LOVE IT!!!!!
Written by RENEE' on December 12, 2010
Read Review details ►