write a review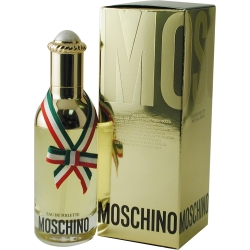 Moschino perfume by Moschino is a warm and resonant scent that emanates a tone of casual sophistication. This scent for women has a spicy but subtle bouquet that is perfect for the woman who plans to turn heads wherever she goes. First introduced in 1987, this evocative fragrance combines rich citrus and florals with rich vanilla in a balanced construction that's just right for any evening occasion, be it a night on the town or an evening relaxing with friends.
Write a review and share your opinion about this product with others.
Just fill out the form below and click the "submit review" button.
Thank you for your effort. We appreciate it.
We'd Like to Thank You
to receive special offers & coupons! (optional)
This perfume is one of my top three fragrances. This fragrance is so invigorating. It is spicy and refreshing. Bold, yet not overpowerfing. If you are feeling blue, spray some of this on and it will lift you up. I can't imagine anyone not being unaffected by the bright, bold, yet comforting aroma of this cologne. People will ask you what you are wearing and tell you that you smell so good. It;s addictive. I have purchased two bottles in the last two months so far and intend to buy more.
Written by Edie on January 19, 2014
Read Review details ►
I am so thrilled to find my all-time favorite fragrance still available! My son gave me this wonderful fragrance as a birthday gift some 24 years ago and I fell in love with it. Over the years I have searched high and low (and I mean that - from Italy to London to Sydney, Australia) to replenish my Moschino and have managed to find it but now that I am back in the US I was dreading running out. I agree with the other reviewers - THIS IS THE BEST FRAGRANCE EVER!! and I have lots of other high-end fragrances but nothing compares to Moschino. Can you get the Body wash and lotion? That would be the icing on the cake for me!
Written by Chef G on December 09, 2013
Read Review details ►
Thank you, the company, who ever else that is responsible for bringing this lovely MOSCHINO fragrance back into production. Also thank you for keeping the cost at a reasonable price. As difficult as it was to find you could have raised the price and all of us that have been on the hunt for this fragrance would have paid more. I will always purchase my fragrances from your company.
Written by Connie on September 19, 2013
Read Review details ►
When, oh, when will Moschino realize the mistake they made in stopping production of Moschino for Women. I've never worn a fragrance that drew comments from so many people as this one. I am devastated that I can't find it any longer. Please get them the word that many of us are missing it. Thanks.
Written by CeeJay on June 27, 2013
Read Review details ►
PLEASE, PLEASE, DO NOT LET COMPANY DISCONTINUE THE "ORIGINAL." I HAVE MANY OTHER PERFUMES, BUT THIS IS THE ONE I GO TO ALL THE TIME! HAVE BEEN USING IT FOR MANY YEARS. ALWAYS GET COMPLIMENTS ON THE PLEASANT SCENT. IT'S MY ALL TIME FAVORITE FRAGRANCE!
Written by Vee on June 21, 2013
Read Review details ►
This has been my absolute favorite perfume since discovering it 20years ago, and I wear it every day. Almost every day I receive a compliment on how 'delicious' I smell! Please don't stop making this one, Moschino! I guess I'll have to stockpile when you get more in stock.
Written by Katie on April 11, 2013
Read Review details ►
Moschino fragrance is superb, I keep coming back to your site in the hope that it has returned. Please use your influence to have this fragrance brought back as soon as possible.
Written by Mary, Isle of Man on April 07, 2013
Read Review details ►
I purchased this perfume in Spain before it was introduced in the USA. It was amazing, I've been wearing it ever since. There is not one time I wear it that I don't get a compliment or a "what are you wearing, it's amazing". The problem with stocking up on these is that after a while, it loses it's potency. OMG...what am I going to do. I really only use two perfumes, Moshino and Euphoria. They last all day on my skin.
Written by Maddie on March 19, 2013
Read Review details ►
I have been wearing this fragrance for a very long time. I had purchased it on my first trip to Italy and continued to buy it here from special perfume stores then more recently on line. If I had realized on a recent trip to Italy that this fragrance were being discontinued I would have bought enough to last for the next twenty years. I am always complimented on what I am 'wearing'. It is possibly the only fragrance I can wear without getting a headache or nausea. A friend of mine has had me try some of the newer scents but as far as I'm concerned, there is nothing that can replace this! Please don't stop making this. What's a girl to do?
Written by mamanonna on March 04, 2013
Read Review details ►
Moschino was given to me as a gift and I love it and wear it all the time. I get many compliments on it. It is difficult to find and when it comes in, I order three bottles. I'm going to have to order in bulk as I run out quickly. Please hurry and get it in stock again.
Written by Renee on February 27, 2013
Read Review details ►