write a review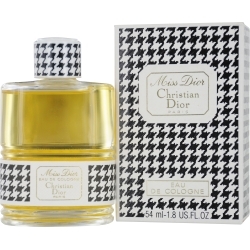 A casual daytime scent from Christian Dior, a celebrated leader in style and fashion, Miss Dior perfume for women is an enjoyably evocative fragrance that balances a light, energetic tone with moderate floral notes. First introduced by Christian Dior in 1993, Miss Dior has a delicate and appealing construction that blends rose, sage, and gardenia with a variety of other green florals. This lilting perfume is great for all sorts of daytime occasions, from a day at the art show to a picnic with friends.
Write a review and share your opinion about this product with others.
Just fill out the form below and click the "submit review" button.
Thank you for your effort. We appreciate it.
We'd Like to Thank You
to receive special offers & coupons! (optional)
In 1954 I was given tickets for a showing at Dior in Paris. After we sat on the little gold chairs, swooned over the clothes, the models,we came down the grand staircase and were lightly spritzed with Miss Dior by one of the elegant young ladies who worked in the salon. I fell in loves itch the fragrance, bought a hounds-tooth bottle immediately, and wore it exclusively for years. That first year three young men fell in love with me. I married the third; we were together for 54 years. I credit Miss Dior for some of this.
Written by Dotti J on November 29, 2013
Read Review details ►
I have worn this wonderful fragrance since the 1970's. I get many compliments . It is not overpowering. It is very calming! It is the only scent I wear. Nothing compares to it! My husband always gives me MISS DIOR for Christmas. I don't even put it on my list! PLEASE DON'T STOP MAKING IT OR CHANGING IT!!!! That would end my association with DIOR.
Written by Carol on November 12, 2013
Read Review details ►
I first received this fragrance in 1970-71, from my then AirForce boyfriend Charles L. he was stationed at Alaska, i was station in the in the Women Army Corps at Ft. Dix, NJ. we had broken up and went our sperate ways but we still kept in contact with each other. On many ocassions He sent me a package to the Post and when i open it to my surprise it was a bottle of Christian Dior cologne, the Captian an I open it to smell it and to both our surprise it smelt great the first time we smelt it i fell in love with it then and there that was in 1970 and it came back then in the black and white box contiainer and it is hard to find ..I love this perfume today as well as i loved it back then ... and it came from the love of my life ..the one that got away.. still i love it as he sent it to me what a lovely man he was...
Written by E.Jean S. from Arkansas on February 19, 2013
Read Review details ►
MISS DIOR the real original circa 1990's. I'd love to know when the Miss Dior Classic will be in for ordering and is it really the original or the one that is being branded original in stores now. The one in stores now is nothing like the old one.
Written by Charmayne on February 08, 2013
Read Review details ►
I first purchased Miss Dior in a Paris perfume shop when I was 18 and have used it, along with other fragrances ever since. I now am 72. Using it both brings back fond memories and still elicits compliments.
Written by Anonymous on February 03, 2013
Read Review details ►
Miss Dior (original). I have worn this scent since a teenager; now 65. My mother and my grandmother also wore it. I feel wonderful and rather sassy when I have it on. I have tried many other scents when this is not available, but always come back to it.
Written by Elizabeth on January 04, 2013
Read Review details ►
Miss Dior was the fragrance my mother always wore and she gave me a bottle for Christmas when I was 15 (1964) - I felt so grown up! Even today I can close my eyes and smell the wonderful scent. I try others but always go back to Miss Dior. Thank you for carrying it!
Written by Kathie on December 05, 2012
Read Review details ►
i love this parfum it is the ultimate elegance, i would like to find the original bottle of parfum, with the original design,we could see this bottle in the movie "guess who's coming for dinnner ?"
Written by brigitte a on November 20, 2012
Read Review details ►
Best perfume ever - have worn it for over 30 years and still love it - I am having difficulty purchasing it - have not seen body cream available in a very long time and mine is almost out - even the duty free did not have the Classic fragrance - I have tried other fragrances and nothing feels as special as this one.
Written by Judith - Canada on November 11, 2012
Read Review details ►
I love this Ms. Dior. I been looking for so many years, I know it is hard to find. I worn Ms. Dior when I was in high school (middle 60's). Please let me know once you have Ms. Dior and I hope it will not be discontinue this Ms. Dior. I was elated when I saw it. I will buy three bottle once you have it.
Written by Victoria on November 08, 2012
Read Review details ►