write a review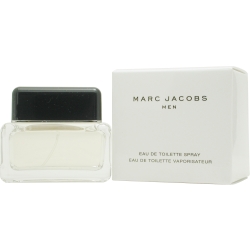 An energetic and contemporary cologne for men, Marc Jacobs by Marc Jacobs provides a clean, light scent that's unquestionably masculine but has the subtlety and quirkiness of today's most intricate fragrances. Introduced in 2001 by Marc Jacobs, this inviting and esoteric fragrance is a light, mossy blend of various spices and patchouli. Its flowery nature makes it perfect for a variety of daytime excursions, such as a picnic, a lunch on the patio with friends, or a trip to the beach.
Write a review and share your opinion about this product with others.
Just fill out the form below and click the "submit review" button.
Thank you for your effort. We appreciate it.
We'd Like to Thank You
to receive special offers & coupons! (optional)
Marc Jacobs is one of my favorites. I bought this for someone special as a gift about 8 years ago and we still both love it.
Written by Anonymous on March 20, 2013
Read Review details ►
Great fragrance.....goes on good,it just doesn't last long,whenever i wear it i take the bottle with me so i can spray more on,but it's a keeper,great for a windy day or a not so late night on the town.
Written by GROWN MAN on October 17, 2012
Read Review details ►
My husband has worn this for the past 9 yrs and has gotten more compliments. We have to laugh, we have been married 47 yrs and women ask him what scent he is wearing, makes me jealous, which is a good thing! I'm sad it is not currently in stock as he is out, so I'll have to shop elsewhere for now :)
Written by Judi on October 14, 2012
Read Review details ►
I absolutely love it - I'm 22, and sometimes I think it makes me smell a bit older, but it compliments most of my outfits perfectly. It's a must have!
Written by Kaosoul05 on December 31, 2009
Read Review details ►
I Love this fragrance (Marc Jacobs for Men). Whenever I wear it I get compliments from people of every age, ethnicity, gender, etc. It is so clean and light it is like you are just enhancing your natural scent, not masking another scent. Oh, and I am 28, I think it is for every age.
Written by Nick on August 11, 2009
Read Review details ►
I started using this about 5 years ago in college. Very versatile. The best scent I've ever owned and my wifes favourite. I always recieve compliments when I wear it and that they haven't smelled it before. Though it could be stronger, I think it borders on just right. Oddly enough, people always remark that it has a coconut scent to it, which I agree with, even though it contains none. This is a must to own!
Written by Josef L. on October 16, 2008
Read Review details ►
I never had as many complements as I do with Marc Jacobs. It smells great and my girlfriend gets upset if I wear anything else.
Written by cescob31 on July 08, 2008
Read Review details ►
I originally bought this scent for my boyfriend since Marc Jacobs is a creative genius! However, I have been stealing it from him (who absolutely LOVES it) for myself! Its perfect for anyone. Its very simple , clean and fresh, yet also has a hint of something else which makes it completely different from other scents. Its so wonderful on a man or woman and I have been getting compliments. It is just so unique. Marc Jacobs is a god
Written by Tea on August 22, 2007
Read Review details ►
My first time wearing this fragrance i got so many compliments from younger and older crowds. I never got that many compliments about any other fagrances that iI have worn before and i have had my share of colonge.
Written by Arnteyus R. on July 08, 2007
Read Review details ►
I AM FROM BOSNIA AND I USE THIS FRAGRANCE 4 YEARS.ITS GREAT
Written by Anonymous on June 21, 2007
Read Review details ►