write a review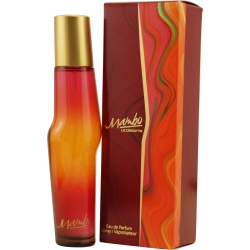 The spicy, fruity bouquet of Mambo perfume for women by Liz Claiborne makes it perfect for active women who love the ambiance of a citrus grove or a flower garden. First introduced by Liz Claiborne in 2001, this romantic but casual fragrance is a rich and aromatic blend of orange, mango, sandalwood and vanilla. Mambo is a wonderful choice for casual but flirty encounters such as a coffee date or a weekend picnic with that special someone.
Write a review and share your opinion about this product with others.
Just fill out the form below and click the "submit review" button.
Thank you for your effort. We appreciate it.
We'd Like to Thank You
to receive special offers & coupons! (optional)
I have worn Mambo for years and receive numerous compliments. It is a great sexy scent for both day and night wear.
Written by Anonymous on April 23, 2014
Read Review details ►
I love this fragrance, my co-worker was wearing it one day and I had to know what it was, she told me Mambo and I was in love. A must try product.
Written by Makeba on April 01, 2014
Read Review details ►
Mambo, I have been wearing this fregrance for over 40 years, it is my very favorite. I get compliments all the time. I left my scarf at a neighbors house the other day and she didn't know who it belonged to " Her husband said let me smell it and he told her who it belonged to" . This is a fregrance that doesn't stay so the person wearing it can smell all day, I forget I even have it on until someone says something. I have had sales people ask me what the fregrance is because they think it smells so good.
Written by CC from Va. on February 12, 2014
Read Review details ►
I get compliments on this perfume all the time. If you wear it during the day use sparingly, a little goes a long way. It is a perfume that woman love the smell of and men love on you. And the price can't be beat! One caution, it doesn't smell good on everyone. But for the price you might be someone it does, so go for it!!
Written by Jahusk on August 19, 2013
Read Review details ►
I was wearing mambo when I was in my early to mid twenties and fell in love. But when it was discontinued I really did not have a true favorite fragrance anymore until I discovered this site. Now that I'm in my mid thirties this scent still smell good on me now as it did when I was in my twenties. This is a very sexy scent.
Written by Princess77 on May 04, 2013
Read Review details ►
this one of my favorite perfume, it makes me feel like i am 25 again. it has that certain something about it. i really love it.
Written by written by wanda on May 13, 2012
Read Review details ►
I LOVE IT. OMG FOR YEARS IVE BEEN USING IT. I WEAR IT EVERYDAY ALL DAY. LOVE IT
Written by LadyB on March 11, 2011
Read Review details ►
I absolutely adore this perfume. My mother wore this while I was in elementary and middle school. I used to think that it smelled funny. However now I'm in love. I have two bottles to be exact. This scent lingers on me for over 8 hours and draws numerous compliments. It's perfect for the teenage girl, the young women, and the mature lady. I'm 19 and I've been wearing Mambo for at least three years now. I suppose it's only right to thank my mother for introducing me to this spicy, oriental, sensual, exotic perfume. P.S. Thanks Mom
Written by PerfumeLover on February 28, 2011
Read Review details ►
I just love me some Mambo...It just make you wanna say How U doin...Hello
Written by CArmel Delight on October 23, 2009
Read Review details ►