write a review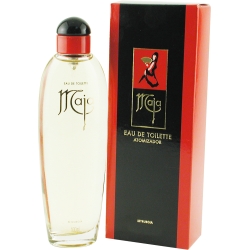 A resonant and exotic classic scent for women that radiates casual sophistication for the evening, Maja perfume for women by Myrurgia is a traditional yet evocative choice that will turn heads wherever you go. Introduced by Myrurgia in 1921, Maja brings together a perfect balance of citrus, lavender, spice and woods. It's a spicy, moderate fragrance that works just as well for a relaxed evening party with friends as a dinner date with that special someone.
Write a review and share your opinion about this product with others.
Just fill out the form below and click the "submit review" button.
Thank you for your effort. We appreciate it.
We'd Like to Thank You
to receive special offers & coupons! (optional)
I discovered MAJA soap when I was serving in the U.S. Navy and stationed in Rota, Spain. I just rediscovered it on your website and have been using it steadily. MAJA is usually thought of as a fragrance only for women and I think this is wrong. This fragrance is suitable for both sexes. Let me tell you something. The day before yesterday I was doing some shopping at TRADER JOE'S....this attractive young woman (I think she might have been in her 30's) kept passing by me. As I'm 62 years old, I think she was allured, so to speak, by the exotic scent of MAJA. This happened again yesterday at the library. This time it was the head librarian, a pretty young woman with big brown eyes. GUYS, YOU'VE GOT TO TRY THIS STUFF!
Written by Phil on April 13, 2014
Read Review details ►
I have used Maja since the early sixties and will continue and alot of my friends have asked me to order the perfume for them.
Written by virginia colvin on February 28, 2014
Read Review details ►
I have worn Maja for years and it is my favorite fragrance. I have had a hard time finding it for the past several years and was so happy to find your site that I could order from. Thank you.
Written by Joanna Pugsley on January 05, 2014
Read Review details ►
Bought the Maja by Myrurgia hand soap because I wasn't certain I would like the fragrance. It is spicy and it grows on you. It feels old and familiar like your heirloom jewelry. I am going to get the cologne and bar soap. It is a lovely fragrance rich and elegant.
Written by EMM on January 01, 2014
Read Review details ►
My all time favorite scent. I have worn this on and off since the 70's. I like to try different fragrances for different moods (Anais Anais, Sung, and others), but I always come back to Maja. Not exactly floral, not exactly oriental, not exactly woodsy, Maja is a balance of all of the above. Top notes are floral romantic, dry down is mossy/musk, but not heavy. Sophisticated woman's scent, not girly. Relatively inexpensive, but has good staying power; 2 spritzes will last the day.
Written by BT in SoCal on November 01, 2013
Read Review details ►
I fell in love with this perfume many years ago. I lived in California at the time but after living in the East I had difficulty finding Maja until someone suggested your website. I was so happy to find it and again enjoy the wonderful fragrance. Thank you for keeping it in your inventory.
Written by Mary on September 17, 2013
Read Review details ►
My mother had a perfume store in Monterrey, Mexico for 43 years, started in the late 40s. When I was a teen in the 50s, Maja was very popular among young women. I have fond memories of this, then mother and I visited the Myrurgia factory in Madrid, Spain in 1961 and we saw how BY HAND the women workers wrapped the round Maja soaps in that black tissue pleating it unbelievably fast and then put the Maja seal on the front. The fragrance of Maja has stayed the same for years. I just bought a box of three soaps, my daughter and I love them!!!
Written by Kris on September 09, 2013
Read Review details ►
I have enjoyed the scent of this perfume since smelling it on my great-aunt over many years. It was always her favorite and has now become mine. I am very happy that I found it ; it has been extremely hard to track down until now.
Written by Anonymous on September 05, 2013
Read Review details ►
Maja by Myrurgia: It's just lovely. Just the way I remembered it!! Have not been able to get it for years. Indeed, I thought the firm must have gone out of business....Then one day I was looking for something on the internet, and wondered if I could track down an OLD bottle from somewhere?? Of course, up came fragrancenet. com. And they have it, new, all the time. I even got the talc and soap. I feel positively spoiled! THANK YOU!
Written by Janet Fenwick on June 26, 2013
Read Review details ►