write a review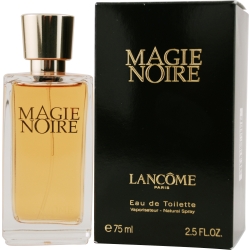 A casual but evocative scent from Lancome, a celebrated leader in fashion and style, Magie Noire perfume for women is a seductively evocative fragrance with a moderate, spicy tone. First introduced by Lancome in 1978, Magie Noire has a thoughtful and complex construction that blends distinctive green and crisp notes with undertones of sandalwood. This engaging and elegant fragrance is wonderful for a broad variety of daytime adventures, from picnics to coffee dates with a friend.
Write a review and share your opinion about this product with others.
Just fill out the form below and click the "submit review" button.
Thank you for your effort. We appreciate it.
We'd Like to Thank You
to receive special offers & coupons! (optional)
I"be worn Maggie Noire for over 35 years and am always asked "what are you wearing-you smell wonderful." I was so sad when the gift sets were no longer available at the Lancome counter. I wore this perfume when I met my husband and it is my Christmas gift every year. I still have some of the fragrance sticks from a gift set. Thank you for making Maggie Noir available for those of us who use it and no other perfume.
Written by Debrah on May 20, 2014
Read Review details ►
This fragrance has been with me in my early twenties I'm now 64 years my mother used it and now my daughter uses it but it was so cute when she was small she would always refer to it as"The Mommy Smell"
Written by Deborah Fentress on April 01, 2014
Read Review details ►
I just adore this perfume, It has been my signature perfume for many years. I started wearing this perfume in my twenties, now in my fifties it is still my heart. You can never go wrong wearing this perfume , it is the perfect perfume at anytime .
Written by Joyce on March 26, 2014
Read Review details ►
Magie Noire was purchased for a friend. It is hard to find in Jacksonville. It is a great fragrance. My friend was introduced to Magie Noire in 1984 coming from Europe. She sprayed it on me and I'm planning on purchasing a bottle for myself.
Written by PT on January 23, 2014
Read Review details ►
I HAVE WORN MAGIE NORIE years, I now am 79. I STILL USE LANCOME PRODUCTS but nothing suites me like I was so use too! I was told they didn't make it anymore and sure was pleased to find out I couid order it on the internet!!!!!! It's my cup of tea and I just LOVE it so very much and WAS ALWAYS ASK WHAT FRAGANCE I WAS WEARING. I used the body creme in the big BLACK JAR, after showering and a spray of my MAGIE, I was set for the day !!!!!!! LOVE THAT FRAGANCE.
Written by connie on January 05, 2014
Read Review details ►
Thank you so much for "Magie Noire" It is the best fragrance by far.
Written by Natalie on January 05, 2014
Read Review details ►
I read the previous postings of Magie Noire and they express so perfectly my sentiments regarding this amazing and timeless fragrance. I have worn this since this early 80's and I have received constant and quite intense compliments from perfect strangers as well as closest family. Friends and family would always hug me and whisper, "I always love how you smell." There is nothing that can replace this fragrance. It is my signature.
Written by Anonymous on December 15, 2013
Read Review details ►
I have worn Magie Noire for years and can't find it any more at the stores that carry Lancôme. I love this fragrance, especially for winter. It has a warm scent which is very distinguishable from other scents.
Written by peg on November 26, 2013
Read Review details ►
I first started using Magie Noire in 1979. I was constantly asked what I was wearing, whether at the office or out for the evening. I simply love this classic perfume and I don't mind spending the money on it because it lasts all day with just a little bit.
Written by Sandy on November 21, 2013
Read Review details ►
Magie Noire is the only perfume I have used since I was 18 years old, that was 32 years ago!!! I'm so happy to find it on this website. I was under the impression that it has been discontinued I cried. Actually I had emailed Lancome and they pretty much just told me sorry, they have many more fragrance to choose from. But there will never be a fragrance that smells like our beloved Magie Noire!!! Why on earth would they discontinue this wonderful product?!?!?
Written by LaNae on November 12, 2013
Read Review details ►