write a review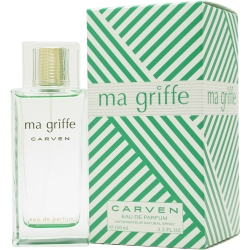 Introduced in 1946 by Carven, Ma Griffe is a women's perfume infused with lush green floral notes. Layered with fresh jasmine, wild moss, and soft musk, Ma Griffe takes the classic feminine scent to the next level, possessing a sultry character that makes this fragrance fitting for a slow, casual summer day. Fresh and delicious, this perfume will make a pleasant mark on anyone you meet, and a light spritz on the wrists is sure to last through errands, picnic lunches, and theater outings.
Write a review and share your opinion about this product with others.
Just fill out the form below and click the "submit review" button.
Thank you for your effort. We appreciate it.
We'd Like to Thank You
to receive special offers & coupons! (optional)
I have loved Ma Griffe since 1972, when I purchased it in Paris from the factory. It became increasingly hard to find in the next two decades. Then it disappeared from all stores in San Antonio. Thanks to your website, I can now wear it again.
Written by Polly Tally on June 19, 2014
Read Review details ►
Ma Griffe is a classic and beautiful fragrance and is a must have for those seeking to complete a classic and/or retro collection. It is fresh and clean with gorgeous opening aldehydes in the opening, which make it sparkle. I love that it us unique and timeless and perfect for anyone of any age.
Written by Anonymous on April 20, 2014
Read Review details ►
I am now over 70 and have worn Ma Griffe when I could obtain it since my brother gave me my first bottle as my 21st birthday present. I haven't been able to buy it for quite some time so was really happy to find that Fragrancenet could supply it. Thank you!
Written by Linda, Australia on October 14, 2013
Read Review details ►
Ma Griffe has been my favorite for many years. It was hard to locate for some time and so thrilled to have it back on my dresser. My children always knew what gift to get me and knew the scent as Mom's scent.
Written by HR on August 05, 2013
Read Review details ►
My son gave me Ma Griffe as a Mother's day gift over 40 years ago. I loved it! Wore it always, everywhere - it became my 'signature fragrance'. For several years I have been unable to find it, but now I have sourced it once again, thank you. Grandma is now a happy lady :)
Written by Trish NZ on May 30, 2013
Read Review details ►
What a trip down memory lane once I received my Ma Griffe by Carven. In the 60 's my older sister would buy this for our mom. I used to be ready to go to work and could not refuse a little spritz of her cologne. On leaving I would say "Bye Ma " "Ma Griffe " and she would laugh and know I had used her cologne. I was in my early twenties and all those boyfriend memories have come back too ! Thanks Ma Griffe .Now I have found you again !
Written by Sandra T,Lasalle,P.Q. Canada on May 21, 2013
Read Review details ►
I remembered this fragrance from many years ago. Something must have changed because although the fragrance is still the same it does not stay on. I have to reapply after one hour It still smells great but my bottle will be empty very soon.
Written by ht305 on April 08, 2013
Read Review details ►
MaGriffe is at the top of my favorite list. I have loved the fragrance since the late 70's. The scent is captivating. I love love love this cologne.
Written by Joyce MK, TX on February 22, 2013
Read Review details ►
Went for years not being able to find Ma griffe, first used 40 years ago and only occasionally came across it. Now I will never run out of my favourite perfume of all time.
Written by Maree on October 18, 2012
Read Review details ►
I have worn Ma Griffe for 40 years. I never tire of it. It is unique and does not copy any other fragrance. I only wish it were a little easier to find.
Written by S. Owens on September 28, 2012
Read Review details ►