write a review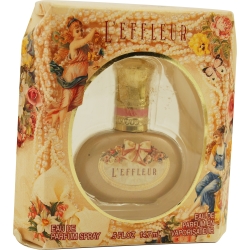 Released in 1990, l'Effleur is a perfume that is well-suited for the casual woman. Created by the house of Coty, l'Effleur features a mix of fresh-cut grass and flowers creates an intoxicating blend of scents that will complement your favorite outfit. A simple spritz of this and you'll surely be turning heads wherever you go. Perfect for those laid-back occasions, this is a wonderful option when you're looking for a perfume to match your attitude.
Write a review and share your opinion about this product with others.
Just fill out the form below and click the "submit review" button.
Thank you for your effort. We appreciate it.
We'd Like to Thank You
to receive special offers & coupons! (optional)
I LOVED this fragrance when I was a teenager back in the 90's. Please bring it back!
Written by Veronica on July 27, 2013
Read Review details ►
Today I wore my fragrance to church and everyone was asking..What are you wearing it is so pretty...I said L'EFFLEUR by coty ...they are asking where they can buy it but I do not know where I can get it..because I bought the on I have over ten years ago..
Written by Tropence on February 03, 2013
Read Review details ►
I have been lost since it was took from the shelves and I have looked for it forever. A friend of mine told me about your site and I am on top of the world to see it again. Nothing compares to it's scent or bueaty, even my husband ask me if I have found any yet. I wore this the night I met him and he has been a fan every since and yes he married me. i recommend this to anyone who just loves to smell bueatiful all the time. A blessing to the fragance world.
Written by greenily on February 03, 2013
Read Review details ►
L"effleur, some of the best I have had , wish I could find it again
Written by janice on January 16, 2013
Read Review details ►
my daughter ask me for this perfume she is turning 30. She still remember when I gave her her first bottle of perfume on her 12th birthday since then she wish to get a bottle same perfume every birthday...she remember the angels on the bottle label....and I thought this year I was going to be able to get it...but apperently they dont make it no more....plz bring this frangance back .... love to buying for my grandaughers (twins) my daughter always talk to them abt this perfume...she love the smell
Written by herlinda on August 28, 2012
Read Review details ►
Please get the cologne back in stock! I love and miss this perfume. I purchased the foaming bath powder but I was disappointed because the powder doesn't foam and didn't dissolve well. But the fragrance...wonderful. I'm using them as potpourri in my bathroom.
Written by Romancegirl on October 10, 2011
Read Review details ►
I absolutely love this fragrance. Was all I wore until they stopped having it in stores. Got lucky and found it on ebay but have wearing it sparingly because of the inability to locate. I wish they would bring it back in the stores. It made me feel beautiful and sexy and was always commented on about how I smelled. :)
Written by Rita on August 07, 2011
Read Review details ►
Reading these reviews of L'Effleur was great fun as they mirrored my own fondness for the perfume. Digging through my childhood room, I ran across an old bottle of the stuff. My friends and I used it all the way through high school almost 20 years ago. It is still a beautiful scent, although quite strong. I wouldn't recommend this for the office as it can be overpowering--one spray will do you all day. I think I'll get a bottle to wear around the house for a whiff of nostalgia once in a while.
Written by Anonymous on July 13, 2011
Read Review details ►
The Leffluer fragrance is the best. i have been lookin for it for about 7 yrs. now. just happen to be browsing the web and finally found it. Please bring it back to the stores. it was my signature scent and men absolutely love it because it is so soft and clean smelling
Written by lucy lue on May 08, 2011
Read Review details ►
I love this fragrance!! I have been wearing it since I was 12 years old. I am now 32. I have searched high and low for it. Online is the only place I can purchase it. I love L'EFFLEUR!!
Written by -Adriana from Phx. AZ on February 10, 2011
Read Review details ►