write a review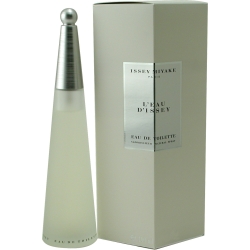 Since 1992, L'eau D'issey by Issey Miyake has featured a freshwater floral scent that is perfect for the woman looking for a casual fragrance. Its soft, feminine fragrance can be used in a number of social situations, giving you a perfume that has the flexibility to complement several of your favorite outfits. Whether you choose to wear L'eau D'issey around the house or out with your friends, it is sure to turn heads the moment you walk into a room.
Write a review and share your opinion about this product with others.
Just fill out the form below and click the "submit review" button.
Thank you for your effort. We appreciate it.
We'd Like to Thank You
to receive special offers & coupons! (optional)
L'Eau D'Issey is above and beyond my all time favorite fragrance. My husband bought it for me for a present the first year it came out. I have long been a perfume lover and collector, but this is THE ONE fragrance I cannot be without. I probably have 15 different bottles of perfume but this is the scent I go to on a daily basis. It's also the scent I get complimented on the most. Everyone wants to know what I'm wearing. It's great for day or night, work or staying at home. It is simply perfection. No other scent like it.
Written by TP on July 18, 2014
Read Review details ►
I've won Izzy for over 15 years. It lasts all day. People a Ways tell me how great I smell. Don't change this fragrance.
Written by dc page on June 23, 2014
Read Review details ►
L'Eau D'ssey by Issey Miyake is timeless beautiful fragrance that I started wearing about two years after it came on the market. I love the fact that people ask what I'm wearing. It's not overbearing. It's not sickening sweet. I tried others before and nothing compares if you want a truly gorgeous scent. Made in France. The only one for me.
Written by White Flower on June 23, 2014
Read Review details ►
L'Eau D'issey (I call it Issey Miyake) has been my favorite fragrance for 20 years. And my only for that long. Tried others, gave them away. The first time I smelled it, a waitress was wearing it. I had stopped wearing fragrance in the last several years. It is the most elegant subtle fragrance and I always got compliments. What is that? If you like a stronger fragrance, this might not be for you. I had it on the other day, my husband said "that's what you were wearing when I met you 15 years ago". It's perfect for people that like a more subtle scent. So, I will never wear anything else. Timeless.
Written by White Flower Girl on June 22, 2014
Read Review details ►
I've been wearing l'eau de issey for a few years now. I always get compliments. Clean fresh scent.
Written by Denise on May 27, 2014
Read Review details ►
I wear this scent everyday, clean, fresh with a hint of floral. My granddaughter also wears this scent. Good for all ages.
Written by Jan on April 30, 2014
Read Review details ►
I've always loved Izzey Mikaye, it's my signature fragrance. I wear fragrances everyday, it's a part of dressing.
Written by JudyK. on April 17, 2014
Read Review details ►
The first time I put on this Perfumed,I went to work. And, two men followed me told, me that I really smells good., ( i worked in a retail store) I decided from that time on, I should wear this Perfumed, I feel so proudly,& confidently good!
Written by OXO, Ms. Annie on April 13, 2014
Read Review details ►
I love this classy scent.. I haven't worn it in over ten years and decided to give it another try..I am still in love after all these years...classic scent that won't disappoint...I love to wear this scent in the spring/summer
Written by Star on March 16, 2014
Read Review details ►
L'eau D'Issey by Issy Miyake has been the only perfume Ive ever liked the smell of or that I could tolerate. 99% of perfumes/fragrences usually give me a headache and trigger my allergies. 8 years ago I smelt this perfume on someone and fell in love. It has the freshest scent. It reminds me of spring/summer so wearing it through the winter really helps the winter blues. Ive been wearing it ever since. I get many compliments on it all the time from people wanting to know what Im wearing and wear i bought it. I tell them this website. Its a great website and its way cheaper than buying it in the stores!
Written by Issey Obsessed on March 09, 2014
Read Review details ►