write a review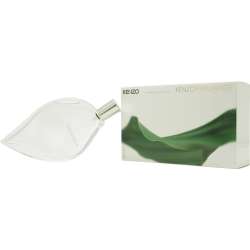 Kenzo is known for creating unique scents for free-spirited women, and Kenzo d'Ete is no exception. This flowery daytime perfume was first introduced in 1993 and shows no sign of decreasing in popularity. Green leaves mingle beautifully with jasmine to create an intense floral scent that lasts for hours. This enchanting women's perfume will transport you-and anybody close enough to catch a whiff of the fragrance-to a field filled with vibrant flowers on a sunny day.
Write a review and share your opinion about this product with others.
Just fill out the form below and click the "submit review" button.
Thank you for your effort. We appreciate it.
We'd Like to Thank You
to receive special offers & coupons! (optional)
Kenzo Parfum D'ete is my ALL TIME FAVORITE scent!! I have worn this since I discovered it bsck in 1996 and as long as I can find it, I will continue to wear it!! It's one of those timeless fragrances that even when I think it has faded off for the day, I still get people asking me what perfume I am wearing!! IT IS AMAZING!!!
Written by Alex on March 02, 2014
Read Review details ►
This is my go to fav spring summer perfume. It smells delicious and I always always get compliments. Furthermore, it isn't overpowering (even my friend with perfume "allergies" doesn't mind this). It's a very pretty scent - cross between slight tang and flowery.
Written by Rimavh on September 16, 2013
Read Review details ►
I have worn this fragrance for years; it seemed to disappear from major retailers a few years back, and I had real trouble finding it. So glad to find a ready source for it. I love it and wear it day and night. I get compliments on it regularly. Feminine and airy, it wears well for any occasion including work. Never overpowers. It is magical.
Written by Rhonda M on May 22, 2013
Read Review details ►
This is a wonderful scent that stays with me all day without being overpowering. It lifts my spirit, makes me feel elegantly casual, which feels as my own character signature. I can use it anytime. This perfume fits contradictions, since its scent feels intense without being overwhelming, it has a woodsy dryness with a muted flower undertone. I have tried many perfumes before that felt overwhelming. I will use Kenso d'eté for as long as it exists.
Written by Margarita on April 08, 2013
Read Review details ►
I have worn this scent for fifteen years. I never tire of it; so light and feminine. Easy to wear to work or that special occasion since it doesn't over power. If you are a romantic this is the one.
Written by Rhonda on July 10, 2012
Read Review details ►
I have looked for this perfume for YEARS and have a tiny sample of it left that I won't dare use until now, since I've found this! How fantastic! I love love love this perfume and get tons of compliments on it. I typically cannot wear floral scents, but this perfume is a bit musky and smells floral on me and lasts all day without being over bearing.
Written by TheWritingirish on November 07, 2011
Read Review details ►
I have been trying to find myself another bottle of Kenzo D'ete for a year now & have refused to use the last spray in my bottle untill I get my hands on another, It was suggested to me that i try the kenzo sight as duty free advised it was a discontinued line. this is the one & only perfume I will use through my future years.
Written by DMorris on September 21, 2011
Read Review details ►
Perfect for day and night. I have been wearing it for 10 years and I will for next 30 or so. Hopefully company will keep the production, please, please!
Written by Justyna on September 01, 2011
Read Review details ►
I got this perfume from a dear boyfriend of mine several years ago, back in 96. I just had forgotten about. I am glad I found it again by chance, I loved it and sure I will enjoy it again. I agree w/ other reviewers, people asked me all the time about this fragrance... I am going to order it again!!
Written by Patty on June 05, 2011
Read Review details ►
Kenzo D'ete is THE BEST, I would not weare other, It was the best gift that I ever have!!!
Written by Maura on March 26, 2011
Read Review details ►